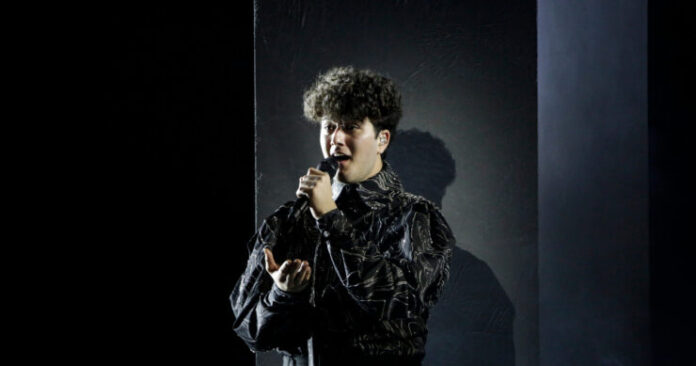 Cards on the table, I'm flabbergasted as to why Switzerland is third in the betting. I was astonished last year too, so can only conclude that, on this basis of a first listen the similar 2021 sound has caused an initial artificial bounce in the odds. Maybe I'm just completely missing something. Let's see what all the hype is about.
Gjon's on what has been made to look like song angular concrete blocks. He's got quite a busy, dark blouse on, and some high waisted slacks that accentuate a feel of the socially awkward one in every school year. This could once have been a curse, but I think we've now reached a point where we know the kids like this often grow up to surprise you.
The staging too is very dark, though fitting I guess with the mood of the piece. There are a few small, and somewhat unexpected contemporary dance moves peppered throughout, where Gjon strikes a sudden pose – a lift of a hand, a slight twist of the hip, and sometimes more significant gestures. It's rather low key until the song builds with a flash of backlit spotlights. The structure he's on splits into parts pulled in different directions.
I have to concede that the crescendo does work, and I think that by tightly choreographing Gjon it does distract from some of the shapes his face naturally falls into when singing. The flashing lights add to the frenzy. There's a hint of him having to concentrate a little on getting the moves right, but that could also be down to this being the first time doing it with the cameras rolling on the actual Eurovision stage.
The high register is still just too off-putting for me, though for those who can get beyond this there's plenty in this presentation to excite. For the first time I must put this in contention. I don't wish to give with one hand and take away with the other – if this does the business then Gjon thoroughly deserves it – but after the hellish nightmare of Covid I just want something cheerier to win.
Monty x
Image Credits: EBU / Thomas Hanses .