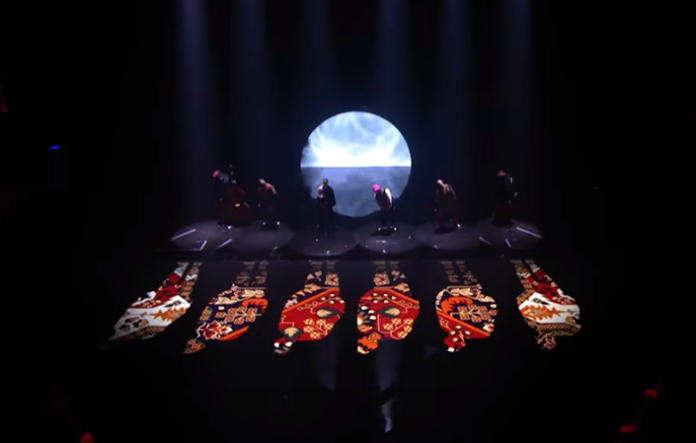 Tipped for victory and with everyone insisting pity points will rain down. I'll be the first to admit I scored this a huge fat nul points in my Countdown review. I've not moved a long way from that today, but on stage, there is a certain life that I didn't see in the national final performance.
For a group who have had little time to rehearse together, this was a polished and slick performance that used the stage, the lighting and floor projections better than anyone I've seen today so far. When people say never write off Ukraine at Eurovision, they speak sense.
Waterfall
Opening with a shot across the waterfall illuminated in orange like sun rise, they've made use of the lighting on the back wall to create a sun rise/set against which they perform. Sure, there were a few dodgy camera shots, but nothing that won't be fixed by next week's show.
Kalush make great use of overhead shots and the above-stage lighting rigs. The pre-chorus break is particularly effective when we see their shadows sway from above. There are some wonderful close-up shots of the band mixed with well thought-out wider takes.
Breakdance
At the end the band walk down the stage, leaving their two dancers looking like abandoned car wash rollers for a breakdance performance that maybe goes on too long.
The staging deserves ten out of ten. The song is still not to my taste. Of course, it's going through. It might even win. But 'Stefania' is by no means the best song on offer this year, even if performance-wise it ranks.