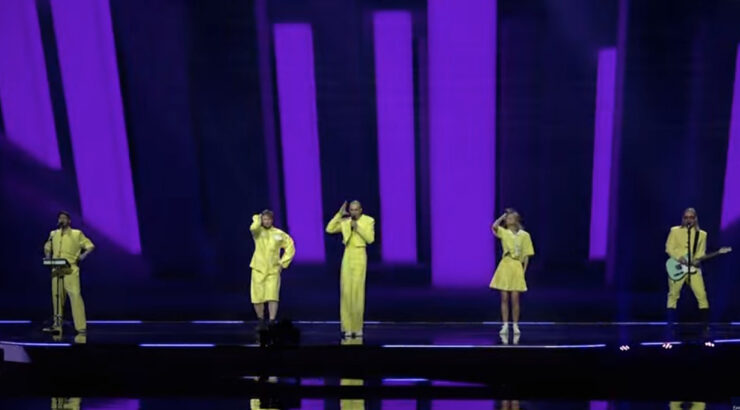 It seems as though nothing has changed in the 24 months since we were all here, people in the online press centre are wittering on about the feed not coming through – me included – before being told that the first run through is a technical one so shut the hell up!
Anyhow, onto Lithuania then.
We got to see a run through first of all without sound – and the people in the online press gallery are like " No sound, no sound" – sigh….
So when we did get it – what did we see?… well not a lot different from the national final to be honest.  The group are all socially distanced as you would expect in these Covid times but they all look as though they are wearing a fashion version of a fisherman's mac and it at least contrasts well with the visual gymnastics that the stage does around them. Vocally it seems to have lost a something from the performances that we have all seen and even a grab of the steady cam part way through doesn't do it for me.
It's very high energy for 10am in the morning, I'll certainly give them that much, but I sense that there is something either not quite right with the mix and stuff (the lead singer screamed "Where's my spot" at the beginning of it – what a pro!) … or they are holding back.
It's qualifying with ease, but I'm left wanting more..  The perfect Eurovision rehearsal in many ways then!
Image Credits: EBU/Thomas Hanses.