See all of our on-the-spot reports from Kiev
The Eurovision Song Contest 2005 was the 50th annual Eurovision Song Contest. The contest took place at the Palace of Sports in Kiev, Ukraine, following Ruslana's win in the 2004 Contest with the song "Wild Dances". The contest consisted of two shows: the semi-final and final, which took place on 19 and 21 May 2005, respectively. The shows were hosted by Maria Efrosinina and Pavlo Shylko. Thirty-nine countries participated, including the débuts of Bulgaria and Moldova and the return of Hungary, which was last represented in 1998.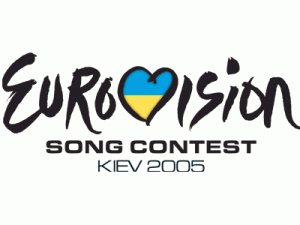 Organizers hoped that this event would boost Ukraine's image abroad and increase tourism, while the country's new government hoped that it would also give a modest boost to the long-term goal of acquiring European Union membership.
The winner for 2005 was Greece with the song "My Number One" performed by Helena Paparizou, written by Christos Dantis and Natalia Germanou, both successful singer-songwriters in Greece. It scored 230 points, beating Malta into second place by a margin of 38 points. This was the first victory for Greece at the Eurovision Song Contest. Romania, Israel and Latvia rounded out the top five. The "Big Four" countries (France, Germany, Spain and United Kingdom) ended up as the "Last Four", all placing in the bottom four position of the scoreboard in the final.