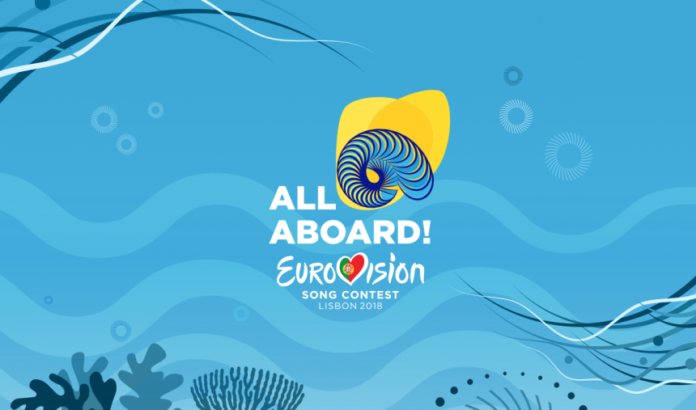 So the bag is packed and today we fly to out for a weekend of fine food and wine as we reacquaint ourselves with beautiful Lisbon.
Of course, bleary eyed or not bleary eyed, we will be at base camp in the press centre on Sunday morning to bring you the first rehearsals from the first semi final which has been dubbed the hardest semi ever, I think I'm inclined to agree. There's actually something to be said for nearly all of the songs. Well OK, there's something to be said for all of the songs but for a couple of countries it's not positive! Croatia and Iceland I'm looking at you, although even Iceland I could forgive as he is just so cute and earnest despite being saddled with that schmaltzy ballad. I can't actually get through Croatia without skipping, it seems a poor relation copy of something else and the something else is something I wouldn't have listened to in the first place! So we need to lose seven more a week on Tuesday and I'm hating that several good ones are going to be missing out. 
Any one of my own favourites, Ireland, Armenia and Albania could be on that list however I've learnt over the years to separate my own favourites from the reality that is a semi final bloodbath. So what will we be looking for on Sunday and Monday as our first semi final protagonists step to the Altice stage?
Counting down
AZERBAIJAN bringing generic bland pop to open the whole show and, for once, I'm not worried about them taking a good song and over complicating it with busy staging. This Katy Perry-esque album track will need everything throwing at it to make it all memorable come the voting. Expect a complicated routine and flouncing. 
ICELAND bringing enthusiasm and smiles in bucket-loads but the song is really too dated isn't it? Will he manage all those notes in the right order? Does it matter when he's so sweet? 
ALBANIA with the voice of the contest in my opinion. Eugent sings the socks off this and, I hope, is rewarded by the juries at least for vocal ability. Skinny and tattooed and confident and he looks like he's not even trying. If this qualifies I'd be delighted. 
BELGIUM and Sennek remind us its only a matter of time before she manages the live vocal. Some concern whether the song is too big for our Ikea girl but I very much like the song. It's a real atmospheric and moody track that would be better in the final than on the Wednesday flight to Brussels. 
CZECH REPUBLIC, THE (or CZECHIA, shudder!) and Mikolas brings his swag and bag to the stage (did I just write that?). He's confident and uber cool and the song seems fresh even now after him doing every preview party going. There's a reason he's still flying with the bookies and it's called 'remember when you first heard it.'
LITHUANIA and Ieva and her fragile heartfelt ballad unfortunately taking points away from my absolute favourite, Ireland. Ironically Ireland will give the 12 to Lithuania here in the battle of the ballads. I like this a lot and see a path to qualification for it, just. 
A short break
I believe there will be a break here for Tuesday night viewer to grab a settling tea or something stronger even on a school night. 
ISRAEL and Netta as favourite next and I do like this but I'm only about seventy percent bought into this as a winner. I get the female empowerment, sassiness and quirk but I'm still unsure as to whether this will sweep the board as the betting suggests. Friends I've shown this to however seem to get it and like the vibe it brings. 
BELARUS bring the smouldering Alekseev and I still, after all this time, can't work out if I really like this. When it starts I'm always taken by it but as it plods along I'm inclined to think it's a bit heavy going and tough, like an over chewy steak! Can I get back to you next week on this one?
ESTONIA have had a whip round and the dress will go the ball. She's the best looking gal in this year and what a voice. I'm just worried they've raised all this money when they've not really got a proper tune to work with. It's like a vocal workout but I don't see it soaring as high as many think. 
BULGARIA seemingly can do no wrong with Eurovision at the moment and are flying high with the betting after two or three good performances in the pre parties. I'm left slightly underwhelmed by this despite the harmonies although wouldn't be foolish enough to write them off. 
MACEDONIA, FYR OF and, although I'm not enamoured with the name Eye Cue or their several songs in one, I'm thinking the staging of this could be the key. If they make it fun and jump between the music styles it might just work. Might, nothing is easy if your Macedonian!
CROATIA next and one of my worst songs of the year. I can't stomach this at all, it's a cheap Sam Brown soundalike and I really find it hard to see how this can possibly progress. 
More tea vicar
Another break here if my sources are correct. 
AUSTRIA and Cesar bring something so solid and complete to this semi now. This, for me, is absolute quality and based on a couple of preview shows I've seen on the European teleboxes could sweep the board with the public and juries alike. Only doubt in my mind is can the boy make the jump from backing vocal to lead. Hope so! 
GREECE bring Yianna and this moody ethnic sounding belter. This hasn't been performed anywhere live as far as I know so all eyes and ears wil be on this to see if she can actually perform it. I love the studio version and the video with the lad who looks like he's been on a bender. Expect lots of drama and flailing arms but probably no show. 
FINLAND and the girl of the moment, ok the girl from the X Factor! She's good  you know and can sing and perform well. It's not a bad song either but I'm just slightly worried it's not going to all fit together as well as the script suggests. Expect usage of the lift built into the stage and other kitchen sink surprises. 
ARMENIA next and one of my absolute favourites. He song musically is stunning to me and I could listen all day. I'm concerned he's been looking lost and vulnerable on stage so far so hopefully he will have some backing singer 'oomph' to make this stand out. Qamiiiiii! Come on! 
SWITZERLAND always come don't they but they don't really try so hard these days. It's a shame as there's nothing really wrong with this but who in the name of Lys is going to get off their Assia and vote for it?!
IRELAND and the adorable Ryan with the penultimate song of this semi and my absolute favourite of the whole year. Yep, I'm shocked too but I love it. The lyric "how could true love look you in the eye and lie lie lie?" is just beautiful. Rumours of dancers, don't try to recreate the video and don't distract from the feeling of the song. Oops, too late I fear. 
CYPRUS wind up the Tuesday night and another one that's not been seen in the preview circuit. I'm having a trouble with the uptempo numbers this year and this includes Fue-go. She's fierce I'm sure but without having seen her live is scaring me and annoying me in equal measure. I hope I'm made to eat my words but not holding out much hope of a strong fue-go here! 
Won't even attempt a prediction at this stage, going to be tough enough next week after first rehearsal. Very excited! 
See you on Sunday Europe and Lisbon, you'll be seeing us today!
Jody
Image Credits: RTP.