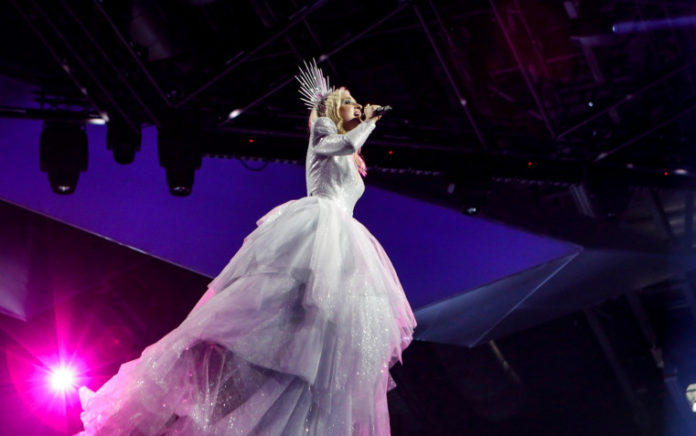 The Head of Delegation said they would change their staging, and yes, yes they have. It's the juxtapose of Georgia. As Oto descended to darkness, Kate rockets into the cosmos.
Kate and her two dancers were strapped onto bendy straws and did all sorts of things, while the graphics did other things all around them. Her voice stood up –  just – to the rigours of being flung about the stage in the last 70 seconds. A skill in itself, shared with the plucky backing singers.
I've made no secret of the fact this isn't a song I rated highly ahead of today, but putting that to one side, to my eyes, things looked preposterous on stage. The whole performance looked ill-conceived and if I'm honest, it's lost any national final redeeming features.
What Australia will bring will be 'water cooler moments', but for all the wrong reasons.
Were this the running order for the final, as surmised in the last rehearsal, 'Zero Gravity' would be in danger of being thoroughly doused by the Georgians with Iceland likely to eclipse the last vestiges of a chance this song might have. But this is the semifinal, and as part of a mad three-song run, it fits nicely. Let's see how things go on Saturday – where I'm sure we'll see Kate again.
Just because you can go all in with ideas, doesn't mean you should.
Image Credits: Thomas Hanses.