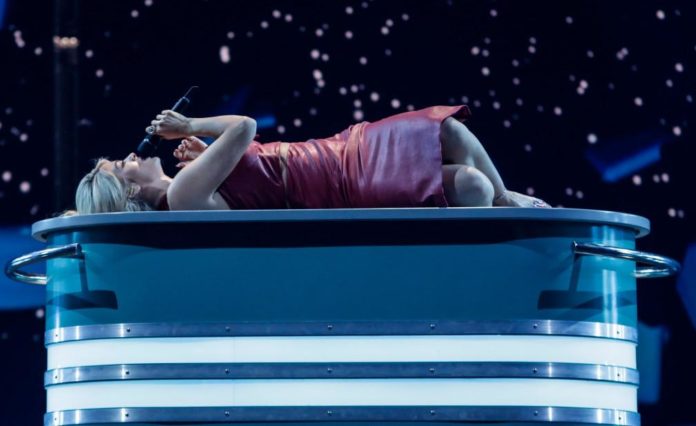 Despite (apparently) dealing with a tooth infection, Sarah was all smiles on her pop art stage singing her heart out for Ireland today, and ending with a cute wink.
I'm not sure if there were too many props (the fake ice cream sundaes could go); there was an unfortunate legs-akimbo moment with the bar stool at one point. The bar also seemed a little too high, and Sarah nearly went a clacker jumping down in heels.
There were some really weird camera shots – too much time spent on the audience, and a laughably awful overhead shot where Sarah was seen lying on the 'counter of the diner. She looked like she'd been served up on a tray. They'd have done well to keep things far simpler.
The Irish certainly have one of the brightest backgrounds and it's a cheerful song with appropriate staging, but for some reason the song itself didn't seem to grab much in the way of attention.
Qualifying? No
Ooh, that was much better. They've switched up a few camera angles so you don't see he clambering all over the table, and she's clearly more confident about it all. However, you can still see her mentally counting down to her next mark, and she nearly came a pearler when she jumped down off the counter, but still, it is very much improved. I still fear its chances, but I'm glad they're aware enough to make important changes.
EUROVISION APOCALYPSE
Image Credits: Thomas Hanses.