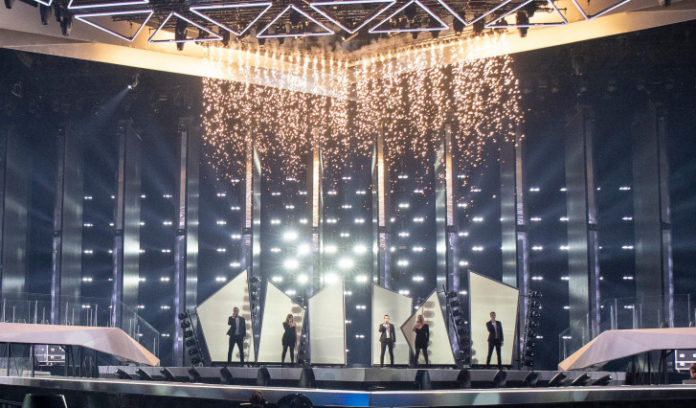 Kobi took to the stage dressed like the maitre d' at a fancy hotel, and still looking for all the world like a Sacha Baron Cohen character. The stage itself stayed dark, with floodlighting glinting from the chain around his neck.
We saw nothing special in the way of effects in the early rehearsals, but the third run-through saw the heavens literally open. It pleased the Press Centre no end. I'm tempted to make a golden shower joke, but I'm better than that.
He's got a decent voice, but 'Home' remained a lumbering brick of a song. I'm assured it's been revamped, but noticed little change from the recorded version. The haunting wail that created the only moment of value has gone. What's left still sounds like a cross between one of those tooth-itchingly awful X Factor winning songs and something cut from a Rice/Stilgoe musical before it transfers to the West End.
If this was in the semi-finals, I'd be predicting an early bath. As it is, I see it in a race for the last place with some of the others having their first run-through today.
Black suit with a long jacket, black and white bow tie and a big chain around his neck. He's marching around the stage like he's inspecting the premises.
EUROVISION APOCALYPSE
Image Credits: Andres Putting.