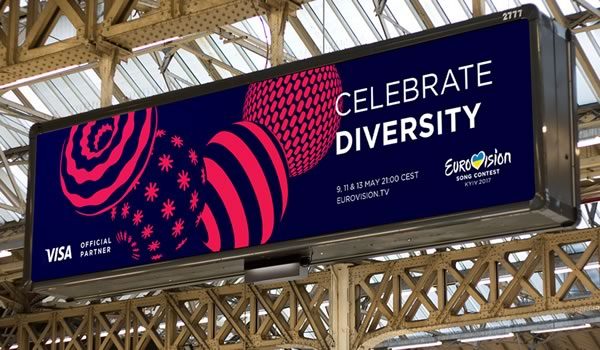 The 62nd Eurovision Song Contest took place in Kyiv, Ukraine. Celebrate Diversity was the central message for the event, complimented by a logo design based around a traditional Ukrainian bead necklace known as Namysto.
43 countries took part – equalling the total set in 2008 and 2011. The list included Romania and Portugal who returned to the competition after a year's absence. Bosnia did't take part, but that old European nation Australia did.
A convoluted selection process took place, during which time everybody had to pretend the host city might be Odessa.
November worries
In mid November 2016, the Eurovision Reference Group met in Kiev to discuss progress towards staging the next contest. A terse press release followed where EBU Executive Supervisor of the Eurovision Song Contest, Jon Ola Sand noted: "There are hurdles that the authorities have to look into and we are slightly concerned that time is running out. They need to speed up and they need to have the full support of the government in order to make it to the finishing line. We will follow that very very closely". Given the EBU never issues anything but good news about everything Eurovision, this could well be code for it's a total shambles.
At around the same time, Zurab Alasania, the former head of Ukraine's national broadcaster NTU resigned. He blamed a funding crisis that could put hosting the contest in doubt.
In an interview with newspaper Ukrainskaya Pradva, Alasania said: "Overcoming the resistance of bureaucrats is very difficult, and we didn't complain until recently. But now we are just desperate. We wouldn't be able to organise Eurovision in 2017."
Despite this, for now he has agreed to stay in charge of Eurovision planning until a new director general is in place. And if all else fails 2004 Ruslana has said she'll organise it, so stop worrying.
Dates for Eurovision 2017
The contest consisted of two semi-finals on 9 and 11 May and the final on 13 May 2017.
NTU staged the contest in the International Exhibition Centre – it has a capacity of approximately 11,000.