And so Rosa Linn came out last, and she was wearing a frankly hideous tie-dye kimono trouser suit.
She talked about how happy she was with the staging of the song, saying it fits the story behind 'Snap' and represents her, adding she's excited to be able to perform in Turin. Before the rehearsal she admitted to being nervous – mostly about how Eurovision insists you move and sing at the first time – not something that comes easily!
As for stage costume, she's not yet decided what to wear – even though the official guidelines ask that performers wear their final outfits at rehearsals – she said it should be more about the person performing than what they wear.
Referenced in the lyric of 'Snap' June 22nd is an important date for Rosa Linn. It's when her life changed and she started to feel bothered by thoughts running around in her head – that became the inspiration for the Eurovision song. She wrote it when she was down and going through a lot. The last two years have been hard for everyone and she wanted to write it all out her as a release.
Sticky notes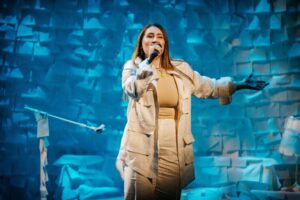 The set today included a collage of sticky notes, intended to convey an important message about how songwriting is a process of pulling together thoughts and ideas.
She's fond of a drink and stresses her love of (specifically) dry red wine, adding that she's loved everyone she's met in Turin – perhaps on account of the dry red wine? Asked if she can win, she deftly sidesteps into talking about how proud she is of Maléna who won the 2021 Junior Eurovision, then adding how she'll do all she can to make sure Eurovision Senior also gets to go to Yerevan.
When asked about making it in music when coming from a small town, she talked about making music in her room when she was just eleven years old with no money. She was just a kid with an instrument who really wanted to write songs. even now she has to pinch herself that she's on the Eurovision stage.
Ellie Goulding
The moderator compares her to Ellie Goulding – Lord only knows why, and the classic stalker question from the audience of 'what are you doing tomorrow' is met with a diplomatic 'something fun'. She also wants to go to Milan because it is amazing (Not that I'd know!).
Like everyone else she's asked about favourite Eurovision songs and mentions two recent winners: 'Arcade' and ' Rise like a Phoenix'. This year, Rosa Linn feels is a great Eurovision year with the songs from Italy, Sweden and Portugal being strong competition.
After Eurovision, she plans to release a follow-up single.
And that, OnEuropeans is that for today – see you same time, same place in the very early bank holiday (UK) morning.
Don't forget to tune in for tonight's podcast!