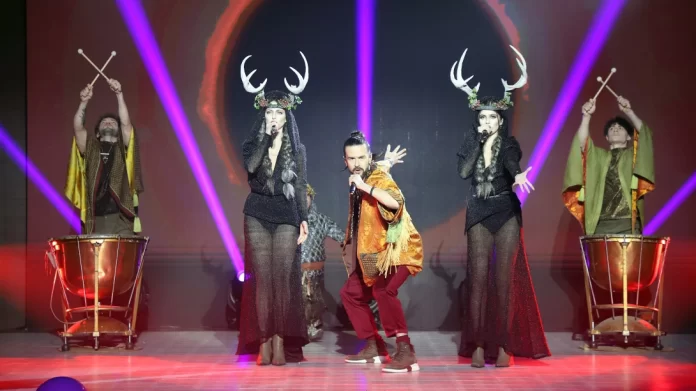 From that memorably awful yet compelling weekend of live auditions, through a couple of variable semifinals and tonight, ten acts – again of variable quality – Moldova picked a song for Liverpool. Sunstroke Project were hoping for third time lucky, but just missed out.
They weren't the only 'returning' Eurovision hopefuls. Two other acts were here for another bite of the cherry tonight: Aliona Moon and Pasha Parfeny. One person who remained very much in possession of her cherry was Blanka, whose flight was "cancelled", meaning we didn't get to the hear the Polish Eurovision song performed 'live'. Viewers did get to watch Latvian Sudden Lights and Romanian entrant Theodor Andrei along with many, many, interval acts in this three hour "spectacular".
The winner of Etapa Naţională 2023 was decided by both a public vote and a jury vote, with each side contributing 50% of the total scores. The three previous Moldovan Eurovision entrants dominated the scoreboard.
| Song | Artist | Jury votes | Points | Televotes | Points | Total | Place |
| --- | --- | --- | --- | --- | --- | --- | --- |
| "Red Zone" | Donia | 24 | 5 | 196 | 6 | 11 | 5 |
| "Why You Play It Cool" | OL | 29 | 6 | 56 | 1 | 7 | 6 |
| "Let's Dance" | Victor Gulick | 17 | 3 | 72 | 2 | 5 | 9 |
| "Bade, bădişor, bădiţă" | Surorile Osoianu | 7 | 7 | 1524 | 8 | 15 | 4 |
| "Indestructible" | Cosmina | 10 | 2 | 113 | 5 | 7 | 8 |
| 10 | Nördika | 10 | 1 | 100 | 4 | 5 | 10 |
| "Du-mă" | Aliona Moon | 52 | 10 | 1133 | 7 | 17 | 3 |
| "Yummy Mommy" | SunStroke Project | 36 | 8 | 2276 | 10 | 18 | 2 |
| "Soarele şi luna" | Pasha Parfeny | 53 | 12 | 5428 | 12 | 24 | 1 |
| "When Love's Real" | Corina Ivanov | 24 | 4 | 81 | 3 | 7 | 7 |
A comprehensive win for Pasha then – I wonder if Amandine is going to be HIS Wine mule this time round? (You had to be there)