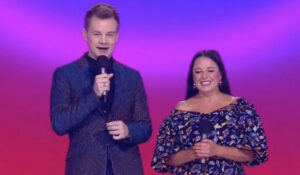 After a year off for the pandemic, 'Australia Decides' was back on the Gold Coast with a lively show picking an entry for the 2022 Eurovision Song Contest. For those of us in Europe, it was breakfast TV, but better.
Joel Creasey and Myf Warhurst took care of hosting, with Dylan Lewis making a general pest of himself in the green room – increasingly this appears to be a thing with Eurovision selection shows.
A panel of industry experts voted first. Voyager came third, Sheldon Riley second and Jaguar Jonze won. There was one vote between the top two acts going into the public vote, where G-Nation came third, Sheldon Riley was the runner up and Voyager came first.
There were flags, capes and a frock on fire, but after all the points were in (50/50 jury/televote), the winner was Sheldon Riley with 'Not the same'.
Media Week reported a peek of 189,000 viewers for the show, down on 2020 when 334,000 tuned in. Online, over 15,000 people checked out the Twitch stream.
| Year | Date on sale | Price range |
| --- | --- | --- |
| 2024 | 28 November 2023 | €13 - €330 |
| 2023 | 7 March 2023 | €35 - €430 |
| 2022 | 7 April 2022 | €20 - €350 |
| 2021 | Not on public sale | €40 - €245 |
| 2020 (cancelled) | 12 December 2019 | €20 - €255 |
| 2019 | 18 February 2019 | €183 - €415 |
| 2017 | 14 February 2017 | €8 - €300 |
| 2016 | 26 November 2015 | €11 - €280 |
| 2015 | 15 December 2014 | €14 -€390 |