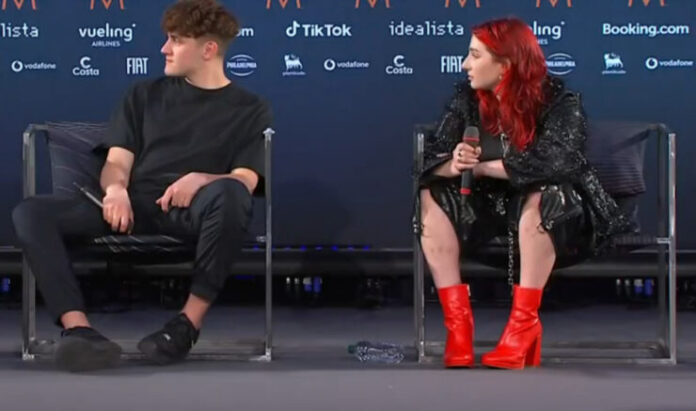 As has become usual there seems to be a bit of a delay before Pia and Luca come into the press conference room.
Luca and Pia first met when shooting the internal selection video back in February, which seems rather worrying, considering by that point we'd heard the finished song. They say working on a bigger stage has been so much better for them, and their eyes lit up when they were invited to represent Austria. I wonder then if Pia has found her voice?
She can touch herself
Pia was asked about whether she was 'real' or not – a strange question, but evidently one based on how her face has become a source for many a meme. She said she can touch herself and finds it hilarious that a few months back, she was nobody and now she is all over the net.
Luca said he would like to collaborate with a many people, especially David Guetta. He started listening to electronic music and when creating a Eurovision entry, wanted something different, both for the commercial markets and for the Contest. He mentioned Michael Jackson and Queen as his inspirations growing up, adding that now everything seems to be an inspiration. Pia focussed on her emotions and cited Billie Eilish as her musical inspiration (another sad girl!).
Half Italian
Luca revealed he is half Italian and lives in Milan, just a short train ride away from Turin, adding how he is proud of his Italian roots. Earning him kudos with the local crowd. When asked which other entry they would be happy to call their own, Pia chose Czech Republic and Luca went for Armenia (for some reason!).
They were asked about life away from Eurovision, Pia works as a theatre make-up artist and says she's a perfectionist when it comes to getting what she wants. She'd love to act and play an emotional dramatic because she's good at crying. Luca kept his ambitions simple: he wants to be in Mamma Mia or Wicked.