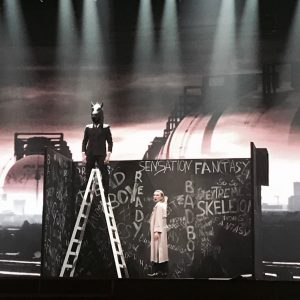 Dihaj is first up after a short break – and if you've been following the bookies, this song was fancied to turn in a decent result. For me, I've always thought it worked better as a studio track than live – but I'd only seen her perform it on small stages in tiny clubs, so was keen to see how it might play out in the hall.
Before taking to the stage in Kiev, she told the official Eurovision Song Contest website: "You have never seen such an entry from Azerbaijan before!"
Of all the things I might expect from a song called 'Skeletons', a bloke on a stepladder wearing a horse's head didn't figure. There's also some complex business with a chalk-board box that Dihaj scribbles on before it falls apart. It's a true Eurovision car crash.
In some ways, it reminds me of Loreen's dreadful 'Statements' – a non-song that confused the heck out of Swedish viewers some months back. Maybe this will confuse too. More likely it'll provoke gales of laughter, and earn its place in comedy Eurovision clip shows of the future.
The vocals are said to be spot on, but you're left feeling that somebody has massively overthought this.