It's about that time of year when you start making your Eurovision travel plans firmer and begin to book your planes and rooms. if you aren't terrible keanos like us and already did it months ago. Tel Aviv is a city like no other in the recent annals of ESC and requires some very particular pre-planning before you even consider getting out your bank card.
So it's a bit of luck that friend of this parish, Roy D Hacksaw, popped over to 2019's host city just before Christmas. He got to make all those silly mistakes so that you don't have to. Heed his words wisely, or you may struggle to even get out of the airport.
Tel Aviv is a wonderful, vibrant, cosmopolitan city that will doubtlessly end up being a perfect Eurovision host. But it can also be a very complicated place for the first time visitor. There are a few things to take into consideration before you start planning your trip. Some important tips and hints worth absorbing now so you don't have difficulties when you arrive.
There are many among you who will be old hands at the short hop to Israel's party capital, and so this will be little more than teaching your nan to suck eggs. But just like the safety instructions on the plane, still pay slight attention. This is a city – and indeed a country – where things are liable to change on an almost daily basis.
Arrival
The most important, and perhaps most obvious to consider comes in choosing your day of travel. For most of us, a Friday or Saturday will be the most convenient – and indeed quite often the cheapest. But there's a very good reason for this. Shabbat. For the uninitiated, this is the Jewish day of rest, which traditionally runs from a few minutes before sundown on Friday until the appearance of three stars on Saturday night. So as you can see, it's an imprecise science and can wreak havoc with your travel plans.
This is principally because pretty much everything bar Ben Gurion airport itself shuts down. The high speed rail link into town. The most useful buses. The corner shops. Everything. So unless you absolutely have to travel between those hours, do whatever you can to avoid arriving in Tel Aviv during Shabbat. We thought we'd be alright arriving a couple of hours after sundown on the Saturday, but the public transport system still hadn't got going yet, and none of the buses or trains were in the right places.
What we then had to do, after much asking about, was exit Terminal 3 via Exit 01 (at the far right of the building), walk along a dark concrete sidewalk to a free bus stop, and wait in a confused huddle for about an hour while a gaggle of coach drivers argued about who was going to take us downtown – without ever actually telling us where we were going to be dropped. Fortunately we alighted at the Arlozorov Central Bus Station in the North of the city centre, which is right by the Tel Aviv Savidor Centre Train Station, so we were easily able to make our onward journey, as Shabbat was now fully finished. But it was a bit of a mystery tour, and we were unsure of quite where we were being taken until we stumbled off the bus.
Apparently, there is another route, where you get off on a nearby motorway flyover by a local bus and wait for the express service down town, but we didn't really fancy that. But if you insist in trying this route, you take the 5 or the 13 to El-Al Junction. Then cross the road and look for the 475 to the Central Bus Station. Good luck with that.
If you've taken the sensible option an elected to travel at any other time of the week you'll be safe with the high speed rail link to the edge of the city centre or the frequent buses. But if you're arriving of Shabbat and don't want all the fuss and bother that we went through, we'd advise booking a cab in advance. It won't be cheap, but it'll lower your stress levels on arrival.
Checking In
It's also worth noting that, depending on where you are flying in from, or indeed what carrier you are flying with, you may need to allow extra time at the airport on your way in. Some airlines and airports require an extra couple of levels of security before you even get into your departure lounge when flying out this way, and although it wasn't anywhere near as thorough as it was the last time we travelled to Israel back in 1999, we'd still suggest that this is one journey to the airport that you absolutely definitely mustn't leave until the last minute.
Oh, and if you're looking for a much cheaper way to get out there, why not try breaking your journey up using the budget airlines if you have some spare days either side of your trip. We mixed it up with EasyJet and Ryanair via Venice out and Geneva on the way back, and paid about half of what we would for flights than by flying direct – and had a couple of smashing little city breaks on either side of our Israel trip while we were about it. So it's worth checking what possibilities are on offer for travelling by this method, as you'll need all the spare pennies you've got once you get to Tel Aviv, as you'll find out in a bit.
On the buses
Tel Aviv's public transport system is a marvel. There are frequent and plentiful routes to just about anywhere in the city that run much later than many European city services. The only problem with them can be in buying your first ticket.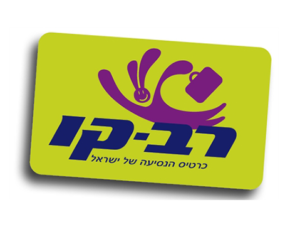 For, it appears, that you can't just hop onto a bus and buy a ticket. In order to travel you'll need a thing called a Rav Kav card. This is a bit like the Oyster card in London, where you load up money and get the according amount of trips.
Just to be complicated there are different versions of these. We'd read that you could get one called the Anonymee on the bus. The first driver we tried refused all knowledge of it and kicked us off. We had to find the Rav Kav office at the Central Bus Station. A grumpy lady took our photographs in a smokey little back room down a dark concrete corridor behind the ticket office. But it was free, and it apparently lasts forever, where the Anonymee will cost you five Shekels – if you can find a driver who can be bothered to sell you one.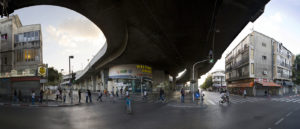 We'd advise that you attempt to get your Rav Kav at either a train station or any other bus station in town apart from the Central Bus Station. Because not only is it not especially central, nestled as it is in the most south-easterly corner of town, it's also flipping massive, terribly confusing, and just a little bit terrifying. I'll swear I could see the lost and the undead shuffling about in the gloom of the deserted lower floors. But if you have an hour or so to kill and you're up for an adventure, the place is absolutely fascinating. Just leave a trail of rice so that you're able to find your way out, that's all we're saying.
And when you charge your cards up at the machines around town, or even on the bus if the driver is friendly, there are many options to consider. But a daily pass called the Hofshni-Yomi is probably the most useful until you get your bearings.
The Expense
For those of you who were getting all excited because we were going somewhere apparently warm and cheap in 2019, think again. Because while it certainly is warm, Tel Aviv is bloody expensive! You'll need to sell the family jewels for a half-decent night out. Even the street food can be up to twice the price of what you can expect to pay at home. Bear this in mind when budgeting for the trip. You could very easily find yourself embarassingly short well before the big show comes along.
If you're looking for cheaper drinks and eats, then you might want to stray south to the hipster haunts of the Florentin neighbourhood, or even south east to the more cosmopolitain working class area of Hatikva, which has an incredible market and some tasty street eats. But even that doesn't come cheap, so be warned.
Also remember that there's around five Shekels to the Pound or Euro. It's easy to get confused with the larger numbers – so get some conversion practice in!
The accommodation
As befits such a bustling, 21st century city, accommodation is plentiful. People are ramping up the prices the nearer it gets to the big day. Consider booking now and shopping around for a bargain. Also be aware that many Air B'n'B properties harbour hidden charges for things like water, air con and electricity usage. So be sure to read that description right down to the bottom to be sure of what you'll be actually paying.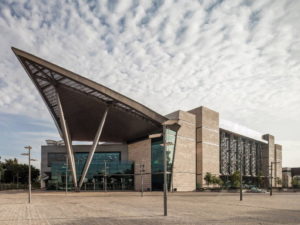 The arena itself is in the North East of Tel Aviv, and is well served by a host of transport options. The most convenient areas to stay for both down town fun and arena access are around the City Centre and Old North. If you're staying anywhere near the rail line at all, you're good. University station is a brisk walk from the arena. But if you can bag yourself rooms anywhere near any of these bus routes from the various companies that populate the city you'll be laughing. They all go to, or pretty near, The Expo Centre:
Egged – 521
Dan – 12, 22, 40, 89, 189, 389
Metropolin – 47, 48, 247
Kavin – 137
The language
It always goes without saying that you should learn a little bit of the language wherever you go. But In Tel Aviv this is essential. Don't go expecting everyone to speak English. People from all corners of the world live here. In this city in particular, many use Hebrew as their lingua franca. Unlike Jerusalem and towns that attract more English speaking travellers, and although the street signs handily come in three alphabets, much of the other signage is exclusively in Hebrew. So having a rough grasp of the alphabet could come in handy.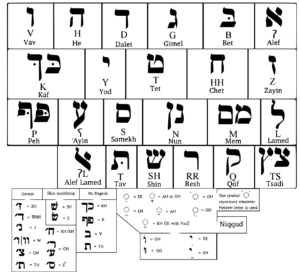 However, this ain't no Kiev or Belgrade with its easy to learn cyrillic script. The Hebrew alphabet is full of complications and confusions to the Western eye. Many of the letters look quite similar to the untrained, but with very different tonal sounds. Others apparently have the same name for different letters, while some have almost no pronunciation at all. And there don't appear to be any vowels. Well, there kind of are, but they're dots that crop up from time to time. I think. Oh I don't know! And that's all before we remember that it reads from right to left!
So we suggest that you either start learning right now, or keep a local with you at all times!
The city itself
Tel Aviv is a bustling, 24-hour rush of a city. Uninviting tower blocks loom downtown. The backstreets and beaches harbour fun times of all flavours. The country is so small and manageable. It's a great base to explore all of those other famous and historical places that you've always been fascinated by. It's a safe city, but you still have to keep your wits about you. It's so fast-paced and noisy that you can very quickly become overwhelmed.
There are, of course, a whole slate of political and social issues to take into consideration, too. Do your research in advance. Talk to people who know the city – and indeed the country as a whole. Plan your trip accordingly and you'll have a fascinating and educational stay. As well as one heck of a party, whatever your views of the place may have been in advance.
The people are also incredibly friendly, and up for Eurovision like you wouldn't believe. Our trip in early December saw the locals absolutely fascinated and delighted at our Euro interest. It gave us the impression of a city that just couldn't wait for it all to start. They were also constantly offering tips of things to see and places to go. Many of which weren't in the guidebooks. So be sure to chat to the people around you and you may discover a lot more than you expected.
Tel Aviv may be a loud, complicated, and frequently confounding place, but once you get into the pace of the city, you'll be so glad that you went to all the trouble. See you down the front…
Do you have any winning tips for Tel Aviv? Or is our correspondent here talking rot and you know a much better way to do things? Local knowledge is always a valuable thing, so please feel free to post your suggestions in the comments below. After all, you can never have enough learning!