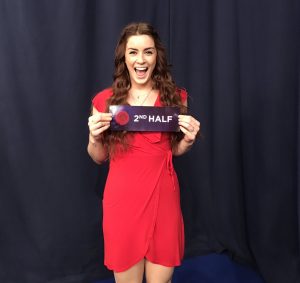 The running order for the Eurovision Song Contest is decided as qualifiers emerge from the semi-finals, but to add an element of 'fun', a draw takes place to tell the 'Big Five' countries (Italy France, Germany, Spain, UK) whether they will sing in the first or second half of the Grand Final.
Today, after each rehearsal, a draw took place to allow the singers to 'pick' whether they get to sing in the first or second half of the show.
2017 favourite Italy will be in the first half of the show. France, Germany, Spain and the UK have all been confirmed for the second part. 
The only country to already know when they will perform is Ukraine. O. Torvald will drag their giant head on stage and be the 22nd song. Producers decide when we hear these entries after the semi-finals end and twenty countries have secured their tickets. A press conference is scheduled for late Thursday night.
To date, a late draw position has tended to give a better chance of success. However, no act has won a Eurovision final when performing last on the night (although there have been a number of semi-final wins from this draw position). Singing second is often seen as a bad omen – it's another slot that tends to produce a poor result.
The Grand Final of the 2017 Eurovision Song Contest takes place in Kiev, Ukraine on Saturday, 13 May from 8pm(9pm CET). OnEurope will be blogging live, join us and tell us what you think.