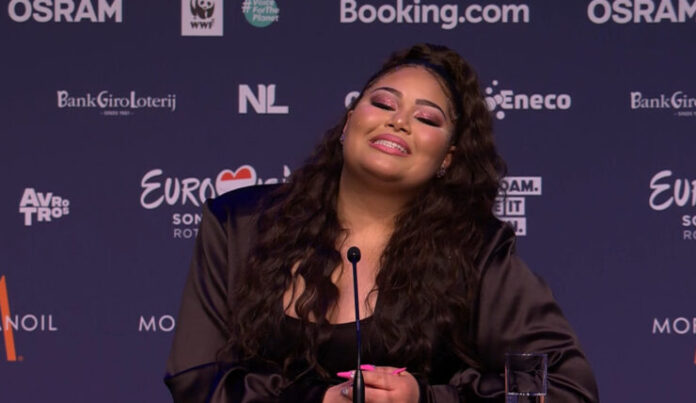 After a second rehearsal today, Destiny was in the Rotterdam Press Centre talking about her Eurovision experience.
"It's totally meeting every one my expectations," she said. "I'm having a great time and it's super important for me to be here. As an eighteen-year-old, making the Eurovision stage is a huge thing."
With social distancing very much the order of the day, she admitted it's been quite a different Eurovision experience with most of the time spent in her hotel room, practicing her dance steps.
She's leading the field with bookmakers, and we wanted to know who she might call if she makes the final.
"My mother," Destiny laughed. "Because I know what she's like. I won't call her before I go on stage, because I get so nervous and excited. But the minute I come off, I'll be on the phone to her asking how it went and if she liked it."
By her side, Charles Dalli, the head of delegation, spoke about Malta's ability to stage the Contest should 'Je me casse' win this year.
"Right now, the focus is on Destiny," he said, "but we're more than ready to prepare to host and do whatever needs to be done. Eurovision is in our blood. We've been taking part for the last fifty years and everyone speaks about the Contest, especially in the final weeks before the shows. On the night of the Contest, the whole of Malta stops what they're doing to watch."
Haters gonna hate
The first round of rehearsals saw mixed feedback and trolls posting hurtful comments on social media. Destiny felt compelled to put out a statement.
"It was super important for me to do that. I got a lot of hate after pictures were posted online, but I didn't let any of it affect me. Of course, it's good to have people sharing their opinions, but what matters most is how they say what they think. For people who lack confidence or don't feel good in their skin, I hope seeing me up there was a boost. It should be their inspiration to never give up even if people hate on you. You should always stand up and fight to be greater and better."
Having won the Junior Eurovision, what's next for Destiny?
"Next I need to bring out my first album, so I'm already working on my music so I can give you more."
Destiny has always been close to her grandfather. The interview ended as she spoke about what he might think to see her now on the Eurovision stage.
"I think he would be proud of me because it's everything he wanted. He wanted me to be on the Eurovision stage. Before I sing, I always pray to him to be with me. I'm sure he'll be very happy and proud."