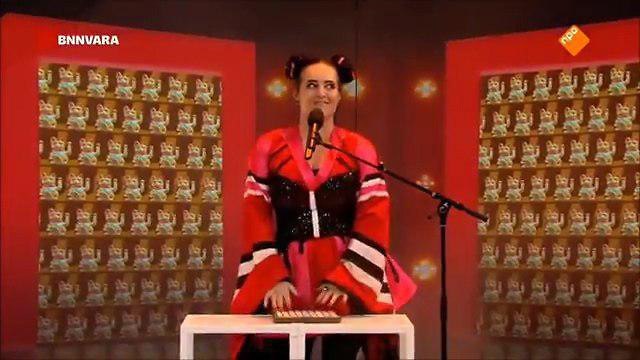 Israel's ambassador to The Netherlands has filed a formal complaint following a Dutch comedian's TV spoof of its winning Eurovision song. Aviv Shir-On states Israeli offence at lyrics and images that suggested mistreatment of Palestinians in a complaint copied to the Dutch foreign ministry, broadcaster VARA, and the Netherlands Central Jewish Board.
Dutch comedian Sanne Wallis de Vries dressed as Netta and performed an alternative version of 'Toy' as part of her regular Saturday evening TV show.The show was repeated three times over the weekend.
During the sketch, a screen shows news footage of clashes between Palestinians and Israeli troops on the Gaza border.
BNNVARA later told the NOS Dutch public broadcaster that the parody was not meant to be anti-Semitic. A statement noted: "In the Sanne Wallis show happenings of the past week are discussed in a satirical way. The parody questions Israel's policies and is in no way an indictment of the Jewish community."
Boycott
The EBU met with Israeli broadcasting representatives last week to kick off discussions around the next Contest. With some websites suggesting 25 May as a confirmed date for the 2019 Grand Final, the EBU today warned fans off booking tickets.
There have been calls to boycott the 2019 Contest, with an Icelandic online petition logging 26,000 signatures, and the mayor of Dublin suggesting Ireland should skip a year.
A
very

rough translation

Look at me, an adorable land, ha
Got world leaders eating out of my hand, ha
I put out every fire with a kiss, ya
Bok-bok-bawook, Bok-Bok-Bawook
Hey, we're planning another part-ay,
Are you planning on coming our way?
Soon in the Al-Asqa mosqu-ay
(It's standing there empty … anyway)

And from Haifa right down to the Dead Sea
There'll be fireworks and kosher satay
So dance to my song, hey

If you're surrounded by those guys who throw rocks
Build the walls that Trump can only dream of
Fire a rock-a-rocket hey, fire a rock-a-rocket hey hey
Rock-a-rocket rocket hey, boo – boo- boom

Isn't it fun, to drop a bomb?
The points are in and Israel wins
This party's going long, seventy years going strong
Isn't it fun?

A, uh-huh, no, I don't think so, Palestinian admission
A, uh-huh, no, not on my watch, I'm a tough tactician
I'll bundle them up in the drapes, while I'm throwing some shapes
It's my party, and my turn to shine, ha
Pom pom pa-woop, Pa-pa-pom-pom-pawoop

Did extremists get into your part-ay?
Move the embassy, make dirty mon-ay
From your ching-ker-ching, cash
Pennies, dollars and cents, your ching-ker-chng cash
Ching-ker-ching, cash …

Isn't it fun?
This party's going long, seventy years going strong
Isn't it fun?
I find it fun …