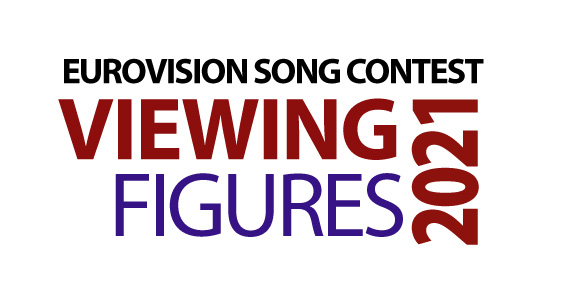 How many people watched the 2021 Eurovision Song Contest?  Officially the EBU are claiming an audience of around 183 million this year. With many countries still in some form of lockdown, it was tipped to be a bumper Eurovision ratings year. OnEurope is back with a round-up of who watched where.
The grand final
Hosting nation, the Netherlands broke their 2014 record (5.1m) with an average of 5.5m viewers watching the live show.
In Portugal, just under 1.2 million viewers tuned into the Portuguese broadcaster to watch the Grand Final. RTP1 captured a 26.9% market share. In Finland, 1.4 million people tuned in – the highest number recorded by YLE since they hosted in 2007 and the most watched TV show this year. In Sweden 2.9 million watched the show, up 400k on 2019. Norway saw the best numbers since 2015 with an 86% market share (1.48 million viewers. Stefania is relatively unknown in Greece, but still ERT enjoyed a 49.4% market share with 2 million watching. In Belgium, VRT recorded 1.5 million – the best in five years. 173k watched in Cyprus. Serbian broadcaster RTS recorded its highest audience share for the final since 2012, with 43.1% of the viewing audience or 1.1 million viewers. A record 1 million followed the show in Lithuania.

The undisputed ratings winner this time was Icelandic RUV, claiming a 99.9% audience share.
With Austria out of the running, ORF also saw numbers crash. 596,000 viewers watched the final, the lowest number since 2013. 178,000 viewers in Romania watched the show, making it the seventh most-viewed show of the evenings with a lowly 3.9% market share. RTE logged 360k in Ireland – up a lot on 2019. In Poland, 1.5 million people tuned in. Down under, SBS Australia drew in 288,000 viewers – well down on 2019. A near miss for Denmark saw just 533k watching – almost half the numbers of 2019. Estonia added an equally disappointing 145k (down from the already depressed 2019 numbers when 201k watched).

The Big Five recorded a general upwards trend, apart from in Spain where numbers were low, as just over 4 million watched – the lowest audience since 2017. Despite minimal promotion (and a record nul points), the BBC enjoyed a bump in numbers for the UK with 7.46 million watching (up from 7 million in 2019 and the highest numbers since 2014). In France 5.5 million saw Barbara Pravi end the night as runner-up; the most since 2009. 7.7 million Germans followed Jendrik's journey – also up a shade on last time. It was winning nation Italy who saw an uptick with 4.5 million cheering on Maneskin.
First semi-final
The hosting Dutch broadcasters pulled in 2.78 million viewers – which was actually down on 2019's second semi-final featuring Duncan Laurence, but still roughly double what might be expected for a show where the Dutch are not competing for a place in the final.
In other nations not taking part, numbers stayed healthy. ORF Austria chalked up 339k viewers. In Bulgaria, 99k viewers (6% market share) tuned in. 106k watched in the Czech Republic. ERT convinced 586k Greeks to watch. An impressive 12.5% share of Polish viewers watched, adding 1.4 million to the total and 298k watched in Portugal. In Sweden, 1.6 million were following the show – making it the most watched heat since 2015. Serbian RTS recorded a 15% market share.
Belgium saw increased interest. Flemish VRT recorded just under a million watching Hooverphonic qualify, while French language RTBF added 290k. TIX drew a huge 70% market share in Norway with 898k watching him make the final. 58% of Swedish viewers watched the semifinal, with Tusse being cheered on by 1.6 million people. In Cyprus, 111k watched – a healthy 35.2% share. 157,000 Australians saw Montaigne perform her entry "Technicolour". In Greece, 840,000 watched. The Roop certainly helped Lithuanian numbers with 812,700 people following the TV show and more than 60,0000 watching online.
It wasn't such good news in Romania. Continuing a trend, ratings remained low. 138k tuned in, making it the ninth most-watched show of the night, well down on 2019 when 184,000 saw Esther Peony fail to progress to the final.
Ratings in Italy were up 30% with 350k watching – double what might be expected for digital channel Rai4. In the UK, 617k people watched on BBC4 – a decent result given the numbers are usually closer to 400k. In Germany, 700k watched – the best since 2016. French TV pulled in 334k, down considerably on 2019. In Spain, numbers remained subdued with 564k tuning in, up a little on 2019.
Second semi-final
The Dutch hosts saw 2.9 million on average, with 5.4 million watching at least ten minutes of the show. The overall numbers gave NOS a 49% market share.
ERT pulled in around 850k Greek viewers with a 16.4% market share – well up on the regular Thursday night share of around 7%. 162k watched in Bulgaria and 650k in Finland – the most watched heat since 2016. Polish TVP pulled in 2.6 million across domestic and international channels, turning it into the most watched semi-final since 2016. Portugal caught the Eurovision bug with 744k watching the semifinal. In Serbia, with Hurricane in the running, almost 30% were watching.
In Austria, numbers were down 72,000 as 495k watched, giving ORF an 18.5% share.  It was equally disappointing for TVR in Romania where a downward trend continued as 122k watched, making it the second least-watched semi final for them ever. Sweden continued its love affair with Eurovision, chalking up just under a million viewers and a 43% market share. With nobody to cheer on, Cyprus added just 72k to the pot. Even with Australia out, numbers stayed healthy in Australia with 155k watching the second show. In Lithuania, interest stayed high. The second semifinal was seen by almost 594,500 people.
Germany reported 720k for this heat, making it the most watched non-hosting semi-final so far. Italy saw 557k watching the show – well up on Tuesday. In France the numbers crashed with just 301k tuning in – down by over 100k since 2019. Swings and roundabouts though, as ratings crept up in the UK, with 666k watching on minority channel BBC4 – the best for a qualifying heat since 2015. Despite numbers being low for the grand Final, 600k Spanish viewers turned the show into the most watched second semifinal ever.