Each year, we prise our tired OnEuropean souls from the depths of PED (Post-Eurovision Depression) and peer over the pulpits to see how many people indulged our ridiculously happy habit of watching Eurovision. It's time for the almost annual (never happened in 2020) review of the viewing figures for the Eurovision Song Contest.
Official reports state that over 160 million viewers tuned in globally, capturing over 8 hours of live TV broadcast, making the event a colossal success.
In 2023, the ESC had some fascinating shifts in viewership across participating countries. Official figures revealed some countries experiencing a surge in viewership, while others saw a decline from the previous year.
The first semi-final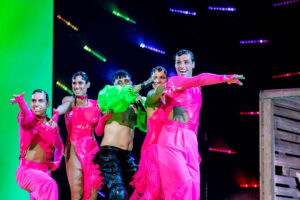 The first semi-final of Eurovision 2023 drew substantial interest across Europe, with viewing figures seeing a significant spike in some countries.
Austria saw a 115% increase in viewing figures compared to the previous year, with a peek total of 1.08 million viewers (averaging at 306k). This significantly rose from the 475,000 viewers and 22% audience share in 2022; just over half a million tuned in to VRT in Belgium, with a tiny number using RTBF's digital service to follow the show in the French-speaking part of the country. Croatian numbers were healthy, with over a million watching the first show.
For the Big FIVE, there were mixed results. Germany had 590k viewers in 2023, a 9% increase compared to 2022, when 500,000 viewers tuned in. In Spain, despite being relegated to La 2, the first semi-final got a reasonably healthy 594,000 viewers, with an audience share of 4.3%. It is, however, a sharp decrease of 29% compared to 2022, when 1,245,000 viewers tuned in. The United Kingdom promoted the show to BBC1 and scored 9.85 million viewers, a massive leap from last year when just 545,000 viewers watched on niche BBC4.
Looking at recent hosts, Italy also saw a decrease in viewership in 2023, with 1.8 million viewers. In the Netherlands, the first semi-final of 2023 scored a high 40% audience share with an average of 2,124,000 viewers.
Without a wolf eating a banana, the number of viewers in Norway decreased by 13%, with 600k tuning in. This decrease follows a trend seen in recent years for NRK. As for Sweden, it rather depends on where you get your numbers. Most agree there was a slight decrease, with a general number of around 1.4 million tuning in.
The second semi-final
Norway led the pack in terms of audience share, with a whopping 56% of viewers tuning in to watch the second semi-final. Finland wasn't far behind, with a 50% audience share, while Denmark also had a significant 40% audience share.
Austria also pulled in substantial viewership, reaching 23.1% with 568,000 viewers on average, as did the Netherlands, achieving a 24.4% share with 1,131,000 viewers. The United Kingdom, co-hosting the event for the first time since 1998, premiered the second semi-final on BBC One, the main channel, drawing in 2,371,300 viewers and an 18.1% audience share. An estimated 380,000 viewers from Australia tuned in​ to see Voyager triumph in their heat.
Greece saw a 16.6% audience share, while Portugal had a 9.7% share and an average of 360,000 viewers. Members of the Eurovision Big5 also contributed to the figures, with Italy standing out with 1,702,000 viewers (8.3% audience share), Germany recovering ground compared to 2022 with 620,000 viewers and a 2.8% audience share, and Spain achieving a total of 1,214,000 viewers, with a 9.2% audience share.
The Grand Final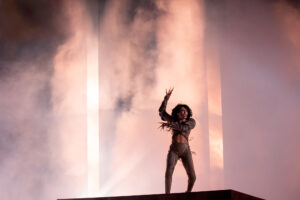 In Germany, the most populous country in the European Union, nearly 8 million people (500k through One, the digital service) tuned in to watch the grand finale, marking a 9% increase from 2022. The United Kingdom, the host of this year's contest, saw over 10.2 million viewers, an 11% rise from the previous year.
On the other hand, some countries saw a decrease in viewership. For instance, Italy, which had 6.59 million viewers in 2022, saw a drop to 4.91 million this year. Similarly, Spain's viewership decreased by 29% to 4.84 million viewers. Notably, the Netherlands also experienced a significant drop of 40% in viewership for the grand finale.
Interestingly, some countries experienced dramatic increases in viewership. Israel, for example, saw a staggering 391% increase, with the number of viewers rising from 0.20 million in 2022 to 0.98 million in 2023. Similarly, Croatia saw its viewership triple from 0.50 million in 2022 to 1.40 million in 2023.
The grand finale of Eurovision 2023 attracted 53.46 million viewers across all participating countries, demonstrating that despite fluctuations in individual countries, the contest remains a significant event in the international cultural calendar​.
The numbers as they stand
| Country | SF1 viewers | Average | SF2 viewers | Average | Final viewers | Average |
| --- | --- | --- | --- | --- | --- | --- |
| Australia | 0.056 (live) | 0.247 | 0.063 (Live) | 0.308 | 0.202 (Live) | 0.48 |
| Austria | 0.323 | 0.306 | | 0.568 | | 1.079 |
| Belgium | | 0.549 (VRT 1) | | 1.044 (VRT 1) | | 1.32 (VRT 1) |
| Belgium | | 0.09 (Tipik) | | 0.252 (La Une) | | 0.313 (La Une) |
| Croatia | | 0.941 | | 0.72 | 2 | 1.4 |
| Cyprus | | | | 0.09 | | 0.14 |
| Czechia | | 0.127 | | 0.073 | 0.186 | 0.175 |
| Denmark | | 0.38 | | 0.479 | | 0.372 |
| Estonia | 0.15 | 0.108 | 0.19 | 0.16 | 0.21 | 0.17 |
| Finland | 1.264 | 1.2 | | 0.469 | 2.8 | 1.7 |
| France | | | | | 4.5 | 3.482 |
| Germany | | 0.59 (One) | | 0.62 (One) | | 7.96 (Das Erste+One) |
| Greece | | | 1.67 | 0.689 | | 1.081 |
| Iceland | | | | | | 0.158 |
| Ireland | | | | | | 0.371 |
| Israel | 1.01 | 0.735 | | 0.287 | | 0.981 |
| Italy | | 1.824 | | 1.702 | | 4.906 |
| Lavia | | | | | 0.7 | 0.576 |
| Lithuania | | 0.273 | | 0.431 | | 0.519 |
| Norway | | 0.604 | | 0.438 | | 1.076 |
| Netherlands | 4.724 | 2.124 | 3.012 | 1.131 | 4.909 | 1.846 |
| Poland | | 0.959 (TVP1) | | 2.44 (TVP1) | | 3.069 (TVP1) |
| Poland | | 0.156 (TVP Polonia) | | 0.223 (TVP Polonia) | | 0.427 (TVP Polonia) |
| Portugal | | 0.878 | | 0.361 | | 1.082 |
| Romania | | 0.065 | | 0.104 | | 0.117 |
| Serbia | 0.5 | 0.227 | | 0.149 | 2 | 0.674 |
| Slovenia | | 0.1 | | 0.235 | | 0.345 |
| Spain | | 0.594 | | 1.214 | | 4.839 |
| Sweden | 1.6 | 1.309 | 1.1 | 0.783 | | 2.324 |
| Switzerland | | 0.277 (SRF zwei) | | 0.109 (SRF zwei) | | 0.474 (SRF 1) |
| Ukraine | 0.203 | 0.09 | 0.259 | 0.134 | 1.3 | 0.584 |
| United Kingdom | 3.4 | 2.541 | 3.2 | 2.496 | 11 | 10.237 |