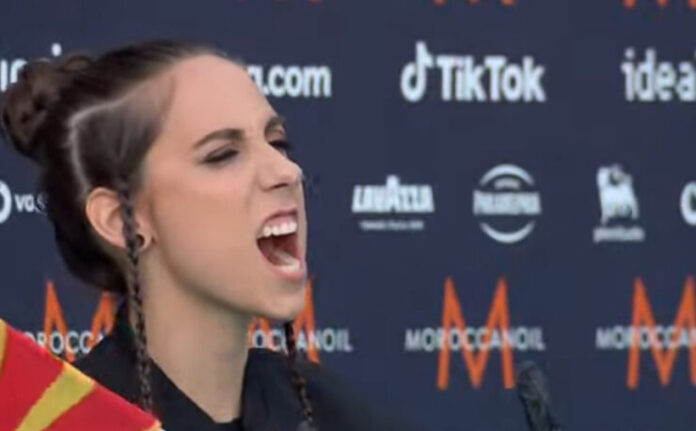 Macedonian Radio Television is considering dropping out of Eurovision from next year.
A statement issued on the broadcaster website today blamed their stance on "the incident that occurred during the official opening ceremony of "Eurovision 2022″, when our representative Andrea Koevska threw the Macedonian flag on the turquoise carpet."
Punitive fine
Shortly after what turned out to be an easily explainable incident – and a heartfelt apology from Andrea – MRT agreed not to pull her from the Contest – mostly because doing so would have resulted in the imposition of a punitive fine by the organisers, and possible further EBU sanctions, ending access to other networked events.
The statement continued: "Macedonian Radio Television will take all legal decisions and disciplinary measures after the return of our delegation from Turin, after the members will submit reports on the events of the ceremony."
Flag-gate
During the opening ceremony Andrea was on the opening ceremony turquoise carpet, and photographers asked her to put down the souvenir plastic flag she was holding. Seemingly without thinking, she tossed the flag onto the carpet to a nearby member of her delegation. Under the laws of North Macedonia, this could be seen as disrespecting the flag – punishable by time in jail. Media in the country seized on the incident, turning an ill-considered gesture into a full-on national scandal.
Next year
It went on to indicate that the level of negative publicity and online reaction means the MRT Editorial Board is "considering the possibility that next year the Macedonian Radio Television will no longer participate in the Eurovision Song Contest."