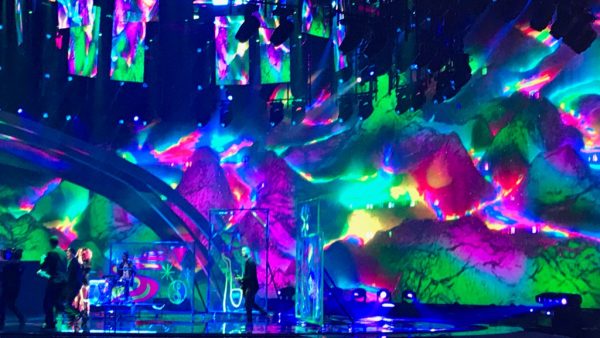 Being a technical god is fraught with issues – I missed her last run through but thankfully she came back and had another go.
Triana Park and their trance are possibly the most visual arresting thing that I have seen today. A lead singer with dyed-red hair and a thrasher t shirt and neon effects, which are OK until you see the massive neon penis in the background.
I then can't take the song seriously. It might not pass the rules committee and there will be objections along the line of it being a family show …
Performance-wise, however, it's a bit all over the place with very good camera shots juxtaposed with said lead singer thrusting and gyrating and the two boys gaining camera time (by pretending to hit their drum kit and play the guitar).
But it's the kind of thing that the kids – and indeed most of this press center – likes … I am clearly in a minority, but it's not about what I like, it's about what they like.