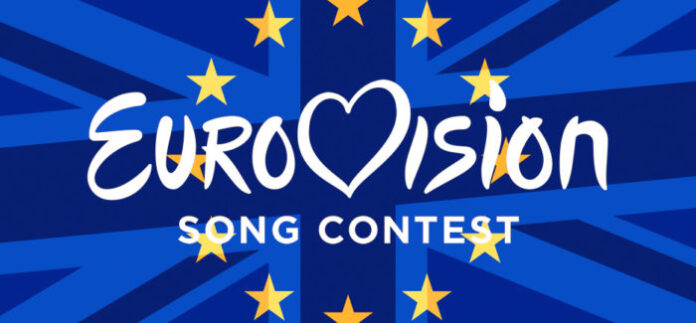 Theresa May recently fired the Brexit starting pistol, and at the same time ignited debate around the subliminal message hidden in the song that will represent the UK at the 2017 Eurovision Song Contest.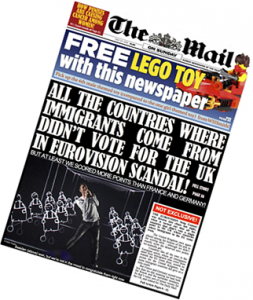 The PM is said to be 'furious' that BBC pinko lefties have sneakily entered a hymn to the increasingly irrelevant union. The song is 'Never give up on you', but the barely hidden message is clear. At internal tax-payer-funded parties, BBC top brass laugh as they drink German wine and sing along, replacing 'you' with 'EU'.  Their hope is to appeal to Europe for pity votes. A win would mean London hosting the next contest and May's government being forced to allow literally millions of undocumented foreigners into the country.
Foreign Secretary Boris Johnson has reassured his boss that Italy or Belgium … or 'one of those new eastern ones' will easily walk away with the trophy. He hasn't reckoned with an underground movement gathering support across Europe.
Forget creeping NHS privatisation, the erosion of employment rights and looming hyperinflation. Around the time of the EU referendum, failed British PM Cameron answered parliamentary questions about the contest. It will come as a shock to the 35% of the population who voted to leave the European Union that after they take back control of their borders, the UK will still foot most of the annual £80 billion bill for Eurovision. France, Spain, Italy and Germany pay around £9.50 each.
SIM card revenge
Swiss Eurovision fan Anton Wanger (not his real name) revealed to OnEurope that mobile phone owners across the continent plan to get Britain back for its Brexit treachery.
"Everyone I know has bought a bunch of SIM cards off an eBay user in Valletta. We're going to vote for England a hundred times over," he said. "And then when you win, we'll all laugh at you having to fork out to host it next year, when you're smack bang in the middle of paying your divorce bill."
Dame Cheryl Baker (former member of Bucks Fizz, who won the contest in the 1920s) revealed she was approached to spearhead the campaign. "I turned it down," she said. "But I heard they've phoned Frida from Abba. Junker is furious. He wants revenge and he's determined that Eurovision will be May's Waterloo."
Graham Norton, speaking last month in between gin and tonics agreed. "I know a lot of people are nervous about the Brexit effect, but we can't do much worse. You never know, we might bounce back. Europe might recall all the people who voted to remain and throw us a bone."
Moving to Argentina
Eurovision nudist Måns Zelmerlöw confirmed that Swedish broadcaster SVT is desperate to avoid hosting again. "We dodged a bullet with Loreen just a few weeks back. The last thing we need is to pay out to stage it again. Our country is near enough broke. Petra is already talking about changing her name and moving to Argentina."
Lucie Jones, who sings the EU anthem, is said to be "made up". Her agent, shrugged off any suggestion of a Eurovision fix. "If she wins, Lucie would be happy to enter again next year," she said. "And the year after if by chance she equalled craggy old Johnny Logan's record."
Bringing Europe together
The contest began in the 1950s as a way to bring together war-torn Europe. It was in fact a British journalist – The Evening Standard's George Campey – who named it Eurovision in 1951. In recent years, many newer European countries have joined including Australia and Azerbaijan.
Modern day Evening Standard journalist Anna Hack, who writes a column on quinoa, thinks the BBC's days at Eurovision are numbered. She points to a call for head honcho Tony Hall to trigger article 12 and take the UK out of the contest.
"To be fair, foreigners just don't like us," she said. "Bonnie Tyler topped the charts for years, but they just made out she was past it. It's all political anyway. We could enter Adele and Ed Sheeran and still get nul points."
Despite this, Anton Wanger remains committed to his cause. "We can't wait to see May's face when she has to sign off  NHS money for a show that stresses the unity of Europe at a time when her lot are intent on pulling it apart."
He added that contest fans should put aside any doubts about the welcome waiting on the streets of London. "By this time next year, the UK economy will be screwed. We'll be able to reserve a whole floor at the Ritz for the same as it costs to book a standard double at the Premier Inn in Kiev."