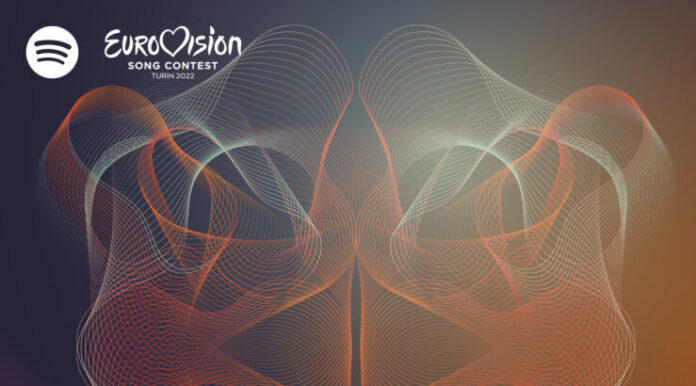 In days of old, I'd glance at the best seller lists around the world to work out who scored the biggest selling hit record from each Eurovision Song Contest. With commercial physical releases rarer than hen's teeth, streaming is the way to go. To get an idea of how Eurovision impacted on competing songs, let's look at Spotify and YouTube numbers in the days after Saturday's grand final.
Global Spotify positions:16/05/22
#60 Ukraine
#112 UK
#162 Norway
#170 Spain
#181 Netherlands
#182 Italy
Following the grand final, 32 entries charted in Spotify's global viral chart – which takes into account the most-shared songs through online platforms across the world. 'Stefania' was the only entry to debut in the charts of non-participating countries Slovakia (#13) and Hungary (#54). In the global Spotify chart, it debuted at #38 with 1,962,754 filtered streams accumulated on May 15 alone, making it the highest ranked of the Eurovision 2022 songs. The UK was at number 77, with a still impressive 1.4 million global streams in one day.
No doubt about it
Together, the 40 entries accumulated 20,633,555 streams on the day after the grand final (May 15), up 89.4% from the previous day's tally. "Stefania" counted for more than 10% of the total, but nine other songs doubled their streaming numbers. Sam Ryder was up 176%, Chanel 173%, Konstrakta 156%, Zdob şi Zdub and the Advahov Brothers up 138%, Nadir Rustamli up 120%, Marius Bear was up 105% German's Malik Harris enjoyed a 106% bounce and Stefan from Estonia boosted his streams by 104%.
Fastest #Eurovision 2022 grand final performances to reach 1M views on YouTube:

SloMo (4 hours)
Stefania (6h)
Space man (9h)
Trenulețul (20h)
Rockstars (21h)
Hold me coser (22h)
Give that wolf a banana (24h)
Llámame (25h)
Brividi (26h)
Fulenn (27h)
The numbers dropped back on May 16, but still accounted for 17,192,152 Spotify streams. While all the songs were down in day-on-day streams, the most stable one was Sweden's "Hold Me Closer" by Cornelia Jakobs (-8.7%). That said, Cornelia was the only Eurovision performer to drop out of the top 200.
The winner takes it all
"Stefania" hit the top spot in the daily YouTube charts of eight countries: Belarus, Estonia, Finland, Latvia, Lithuania, Malta, Norway and Ukraine. Over on Spotify, they topped the list in Estonia, Finland, Iceland, Latvia, Lithuania and Ukraine.
Most-streamed #Eurovision 2022 songs on Spotify on May 16:
1. Stefania (1,697,142 streams)
2. SloMo (1,613,081)
3. Space man (1,138,691)
4. Hold me closer (1,126,819)
5. Give that wolf a banana (920,268)
6. De diepte (891,833)
7. Brividi (879,937)
Runner-up Sam Ryder has done well for himself too. Tipped for a number one in the UK pop charts, he became the first British entry in Spotify history to reach number one in the country, slipping to number two by May 16, but adding over 400,000 daily streams on average.
Dancing queen
Chanel must be pleased. 'Slo-Mo' has been a huge online hit – helped by a flawless performance. By yesterday morning, the YouTube clip of her grand final appearance had racked up over ten million views. In Spain alone, she was up seven positions to #1 in their daily YouTube chart with over 800,000 video views. Things were great over at Spotify too, with her leaping to the number two spot by May 15th with 507,389 streams.
Every single one of the 2022 Eurovision songs has topped a million Spotify streams, most are well over the five million mark. When yesterday, "Give That Wolf a Banana" by Subwoolfer surpassed 10 million Spotify streams, it became the 6th Eurovision 2022 entry to reach this milestone. "Hold Me Closer" by Cornelia Jakobs has now topped 20 million streams.
The history book on the shelf
Some records have been set. "De diepte" by S10 is the first Dutch language song in history to receive more than 1 million Spotify streams in 24 hours. "Stefania" received 86,067 streams in Ukraine on May 15, the 6th-largest daily amount since the service was launched in the country two years ago.
Article produced with data from Twitter: ESC_Charts