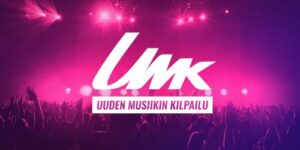 The 2022 UMK just finished and Finland has picked The Rasmus to perform in Turin at the 2022 Eurovision Song Contest, with a song called 'Jezebel'.
The hosts for the show this year were Paula Vesala and Miisa Rotola Pukkila. The final scores were calculated from a 25/75  split between an international jury and viewer voting.
The Rasmus is one of Finland's most internationally successful groups. Their biggest hit, In the Shadows, broke the 100 million streaming mark on Spotify. The band has released several albums, won numerous music industry awards, and played gigs all over the world. According to the band, Jezebel is a song for strong, independent women, who blaze their own trail.
For YLE, UMK2022 was a ratings hit, with 1.9 million viewers watching – the largest ever audience for the show.
| Draw | Country | Artist[109] | Song | Language(s) |
| --- | --- | --- | --- | --- |
| 01 | Finland | The Rasmus | "Jezebel" | English |
| 02 | Israel | Michael Ben David | "I.M" | English |
| 03 | Serbia | Konstrakta | "In corpore sano" | Serbian, Latin |
| 04 | Azerbaijan | Nadir Rustamli | "Fade to Black" | English |
| 05 | Georgia | Circus Mircus | "Lock Me In" | English |
| 06 | Malta | Emma Muscat | "I Am What I Am" | English |
| 07 | San Marino | Achille Lauro | "Stripper" | Italian, English |
| 08 | Australia | Sheldon Riley | "Not the Same" | English |
| 09 | Cyprus | Andromache | "Ela" (Έλα) | English, Greek |
| 10 | Ireland | Brooke | "That's Rich" | English |
| 11 | North Macedonia | Andrea | "Circles" | English |
| 12 | Estonia | Stefan | "Hope" | English |
| 13 | Romania | WRS | "Llámame" | English |
| 14 | Poland | Ochman | "River" | English |
| 15 | Montenegro | Vladana | "Breathe" | English |
| 16 | Belgium | Jérémie Makiese | "Miss You" | English |
| 17 | Sweden | Cornelia Jakobs | "Hold Me Closer" | English |
| 18 | Czech Republic | We Are Domi | "Lights Off" | English |