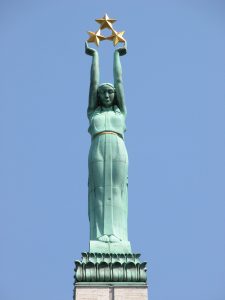 Apparently on Twitter it seems that Penis-gate isn't a thing.  I have been (sometimes forcefully) told that the neon shapes in the Latvian background are not a spurting  phallus. Apparently this is a picture of the Freedom Monument in central Riga.
All very well and good.
However, as you've seen from the picture (not doctored by this site), it looks like a penis…. people at home are going to think it's a penis … the commentators are not going to have time to explain what it is meant to be. In the collective consciousness, anyone who spots this will question why a family show has allowed the backdrop designers to include a penis.
I mean, look at the photos!
The average commentator will have 40 seconds to explain what the image actually represents, if they choose to. Most (if not all) won't.
Penis denyers will do well to remember that viewers won't care what it's supposed to be, they'll see what they want to see. I assume they'll Twitter bomb the entire viewership!