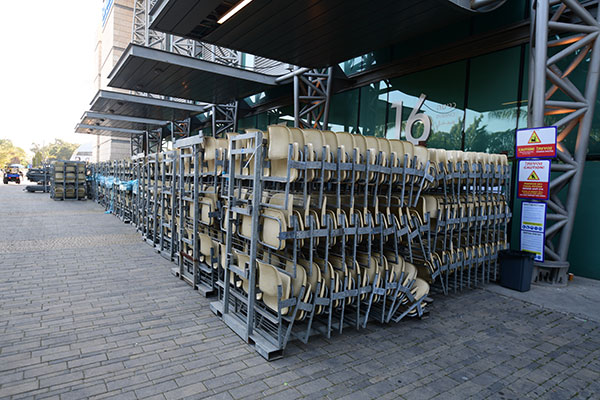 In five weeks, we'll know who has won the 2019 Eurovision Song Contest. Today, we found out more about the show itself.
Assi Azar, who is to host alongside Bar Rafaeli, Lucy Ayoub and Erez Tal, previously told Metro.co.uk: "Everyone puts their focus on the final – but we decided this year that we'd give a lot of attention to the semi-finals. It might make people shed a tear, it's very special. Also, we have a surprise for the viewers which will make them smile, because they will recognise some of the people on stage. I can't say more, I'm not allowed yet, but we are bringing special guests that Eurovision fans know and love."
Today, Kan held a press conference and revealed all.
She's not your toy
Last year's winner Netta will open the first semi final performing her 2018 winning song 'Toy'. She'll be back on the Saturday to perform her new single ahead of its April official global release.
She's not the only diva back on stage. Dana International is to perform in both the first semi-final and grand final.
The second semi-final audience get to sit through/enjoy a performance by Shalva. The group took part in the contest that picked Israel's Eurovision representative – but dropped out as they felt unable to  break Shabbat.
Winner's circle
Things go a little bit X-Factor for the Grand Final when past Eurovision stars get to sing a song other than the one they're known for. Cochita Wurst will sing 'Heroes', whilst Mans Zelmerlöw get to perform 'Fuego'. Eleni Foureira is to put her stamp on 'Dancing Lasha Tumbai', leaving Verka Serduchka to bring a new twist to 'Toy'. They'll all come together with Gali Atari in a rousing final chorus of 'Hallelujah'.
One of Israel's biggest stars, Idan Raichel will perform "Boee" and at the end of his act all 26 finalists will join him on the stage.
During the voting window – which at this rate won't end until Sunday morning – viewers get to see a special montage featuring moments from the previous 63 Eurovision Song Contests.
When that's done, Yizhar Cohen will be back, but this time, he won't be singing. He'll announce the Israeli jury points.
Madonna?
And despite what you might have read virtually everywhere (but here), Madonna is not yet confirmed for the grand final.
Given everything else going on, Kan will be pushed to find time.
LIVE
If you'd like to see what's going on in Tel Aviv, why not pay a visit to the
Eurovision Diary pages
of M&M Production who are busy setting up the Expo for May.
Image Credits: M&M Productions.