Italian-Egyptian rapper Mahmood won the 69th Sanremo Festival with 'Soldi' (Money). Ultimo ended in second place with Eurovision alumni Il Volo in third.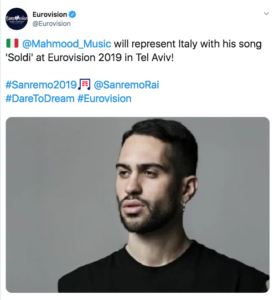 The Teatro Ariston audience seemed less than pleased - though this may have had something to do with sitting through a show that ran into its fifth hour. RAI revealed that of the 'final three'  Mahmood picked up just 14% of the televote. Ultimo scored 46% and Il volo 39%.
Once again, the show was a ratings hit scoring over 56% of the TV audience, some 10.6 million viewers.
The winner of Sanremo gets first refusal on the job of singing for Italy at Eurovision. Following a press conference, the official Eurovision Song Contest Twitter account announced Mahmood will represent Italy in Tel Aviv.
(Scroll down for final positions)
Sanremo 2019 ranking
Mahmood – Soldi
Ultimo – I tuoi particolari
Il Volo – Musica che resta
Loredana Bertè – Cosa ti aspetti da me
Simone Cristicchi – Abbi cura di me
Daniele Silvestri – Argentovivo
Irama – La ragazza con il cuore di latta
Arisa – Mi sento bene
Achille Lauro – Rolls Royce
Enrico Nigiotti – Nonno Hollywood
Boomdabash – Per un milione
Ghemon – Rose viola
Ex-Otago – Solo una canzone
Motta – Dov'è l'Italia
Francesco Renga – Aspetto che torni
Paola Turci – L'ultimo ostacolo
The Zen Circus – L'amore è una dittatura
Federica Carta e Shade – Senza farlo apposta
Nek – Mi farò trovare pronto
Negrita – I ragazzi stanno bene
Patty Pravo con Briga – Un po' come la vita
Anna Tatangelo – Le nostre anime di notte
Einar – Parole nuove
Nino D'Angelo e Livio Cori – Un'altra luce