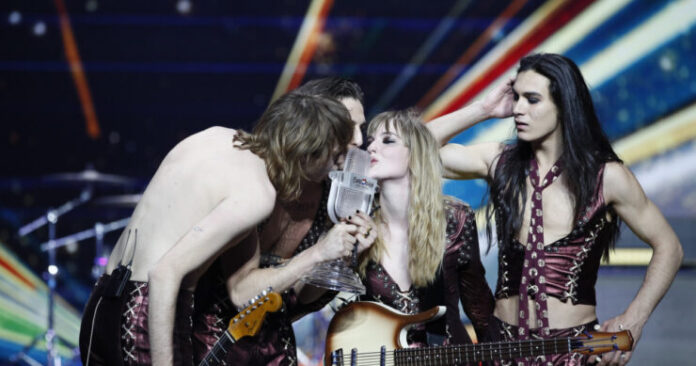 The lead singer of Eurovision winners Måneskin has denied suggestions he was caught on camera taking drugs and offered to take a drugs test to prove it. 
As the final unfolded on Saturday, footage began circulating online showing Måneskin singer Damiano David bending towards the table leading Twitter users to speculate he was using cocaine. In a press conference after picking up the 2021 Eurovision Song Contest trophy, he reacted angrily, explaining he was picking up a broken glass. The EBU confirmed in a statement broken glass was found.
"Thomas (guitarist Thomas Raggi) broke a glass," he said. "I don't use drugs, please guys, do not say that."
The band later issued a statement through their Instagram account.
'We really are against drugs and we never used cocaine. We are ready to get tested, cause we have nothing to hide. We are here to play music and we are so happy about our Eurovision win and we wanna thank everyone for supporting us.'
The band requested an immediate drug test, which the EBU was unable to organise. Damiano David has insisted he will take a test on his return home and release the results.
UPDATE:
The EBU issued a further statement on Monday, 24 May:
"Following allegations of drug use in the Green Room of the Eurovision Song Contest Grand Final on Saturday 22 May, the European Broadcasting Union (EBU), as requested by the Italian delegation, has conducted a thorough review of the facts, including checking all available footage. A drug test was also voluntarily undertaken earlier today by the lead singer of the band Måneskin which has returned a negative result seen by the EBU.
No drug use took place in the Green Room and we consider the matter closed.
We are alarmed that inaccurate speculation leading to fake news has overshadowed the spirit and the outcome of the event and unfairly affected the band.
We wish to congratulate Måneskin once again and wish them huge success. We look forward to working with our Italian member Rai on producing a spectacular Eurovision Song Contest in Italy next year."
A message of hope
The Press Conference was suitably chaotic with David showing his bandmates in champagne, and bassist Victoria De Angelis saying their victory "could be a message of hope" to Italy, which was particularly hard-hit by the virus. We're honoured to be bringing it back after 31 years."
David added the win would be good for Italy and Europe. "We think that the whole event was a relief," after the deaths, pain and restrictions to normal life caused by coronavirus. It was really incredible, the whole event, this Eurovision is going to be a lighthouse."
"We feel like everything we did since the day we met and since the day we started playing and playing on the streets is really making sense and it's worth it," he said.
With Italian broadcaster Rai hosting in 2022, four cities have already announced their interest in hosting: Bologna, Pesaro, Turin and Milan.
Et puis la France?
"France has absolutely no intention to lodge an appeal," France Televisions chief Delphine Ernotte told the Parisien newspaper. "The vote was quite clearly in Italy's favour – it didn't steal its victory and that's what matters.".
Runner-up Barbara Pravi said she was also not interested in speculation. "What's true is that they were chosen by both the public and the jury. Afterwards, if they use drugs or they put their underwear on backwards or whatever… it's not my problem," she told France 2 television on Sunday.