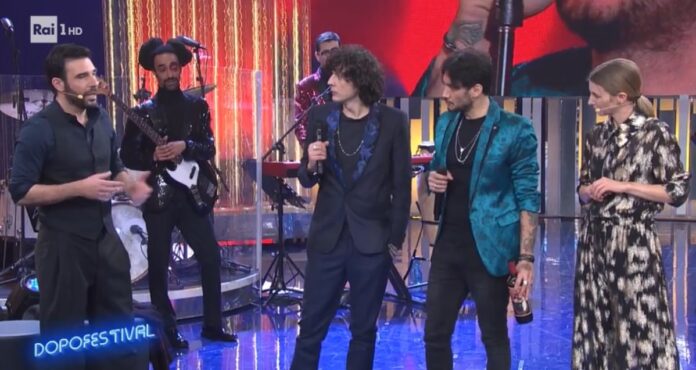 In the very small hours, another edition of the Sanremo festival ended with Ermal Meta and Fabrizio Moro winning the Italian spot at the 2018 Eurovision Song Contest.
They had been odds-on favourites all week, and when votes were counted, "Non mi avete fatto niente" scored high with both the public and professionals. The pair confirmed their intention to travel to Lisbon in a post-victory press conference.
As the week progressed, the winning song notched up the highest number of YouTube and Spotify streams – always an indication of support at Sanremo.
In the end, results were split as follows: tele-voting (50%), the press jury (30%) and the expert jury (20%).
| | | | | |
| --- | --- | --- | --- | --- |
| Performer | Song | Share of Televote | Total share of vote | Position |
| Annalisa | Il Mondo Prima Di Te | 23.2% | 26.9% | 3rd |
| Lo Stato Sociale | Una Vita In Vacanza | 21.1% | 28.4% | 2nd |
| Ermal Meta & Fabrizio Moro | Non Mi Avete Fatto Niente | 55.7% | 44.7% | 1st |
Nearly knocked out
Earlier this week, the song looked set for disqualification. There were suggestions that it broke Sanremo rules, as it contains parts of "Silenzio", a track by Ambra Calvani and Gabriele De Pascali, written by the same songwriter and already published in 2016.
Organisers issued a statement clearing it for the contest. RAI 1 assistant director Claudio Fasulo Stated: "Although the refrains of the two songs are partially overlapping, in music and lyrics, the sum of the excerpts used does not exceed one minute and three seconds of the total duration of the same song of three minutes and twenty-four seconds, and is therefore less than one third of the whole song. The two songs therefore, although presenting analogies, are not the same song, for this reason the entry remains in the comp."
'Silenzio' was swiftly removed from any RAI web pages. As it stands the song received little exposure online or live, and is unlikely to breach Eurovision rules, though the EBU may be asked to rule. In which case, it's a dead cert to be heard in May.