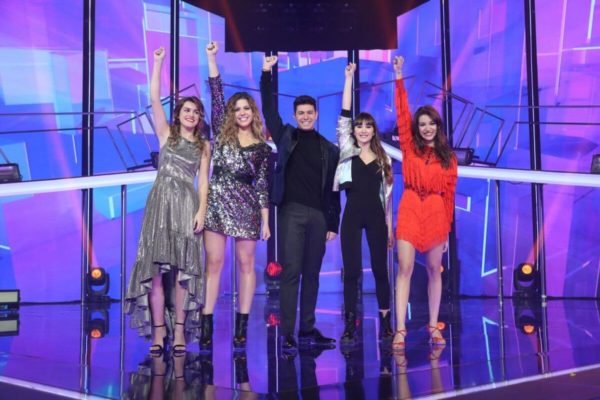 When it comes to picking winning Eurovision songs, what better time to do it than very late on a Monday night at the end of January.
Tonight TVE transmits "Gala Eurovisión", a special live edition of marathon talent show Operación Triunfo 2017 .
In all, nine songs have made the final cut. Some performed solo by the finalists, some as duets. One with all five pitching in. Scroll down now for a bit of sound and vision.
The whole thing kicks off at 22:35 CET on TVE 1, it ends at some point on Tuesday. Here's a link to watch online.
How will they decide the winner?
There's none of that professional jury nonsense in Spain this year. Even though a panel of 'experts' get to talk about what they just heard, the only way they get to influence things is by picking up their mobiles.
After a first round of voting, the three entries with the most votes from the public – via telephone, SMS and the official Operación Triunfo 2017 app – advance to a second round of voting.
What else is going on tonight?
As if the show doesn't already sound a tad on the lengthy side, padding comes courtesy of Luísa Sobral who will perform "Cupido", Conchita Wurst reprising "Rise like a Phoenix", and  J Balvin ith an intriguing medley of "Machika" and "Mi Gente". If that's not enough, we'll welcome back the eliminated contestants of Operación Triunfo 2017 to perform a medley of the Eurovision winning songs for Spain "La, la, la" and "Vivo cantando".
Where can I hear them?
TVE has released all nine songs in studio version and made them available through Spotify
The nine songs, along with their composers, are:
Amaia: Al cantar "While singing" – (Rozalen)
Alfred: Que nos sigan las luces "May the lights follow us" – (Nil Moliner)
Aitana: Arde "It Burns" – (Alba Reig)
Miriam: Lejos de tu piel "Far from your skin" – (Steve Robson/Diego Cantero)
Ana Guerra: El remedio "The Remedy" – (Nabalez)

Agnoney and Miriam: Magia "Magic" – (Funambulista y David Otero)
Aitana and Ana Guerra: Chico malo "Bad boy" – (Morgan & Simms)
Amaia and Alfred: Tu canción "Your Song" – (Raul Gomez)
All 5 Finalists: Camina "Walk" – (OT 2017 participants/Manu Guix)