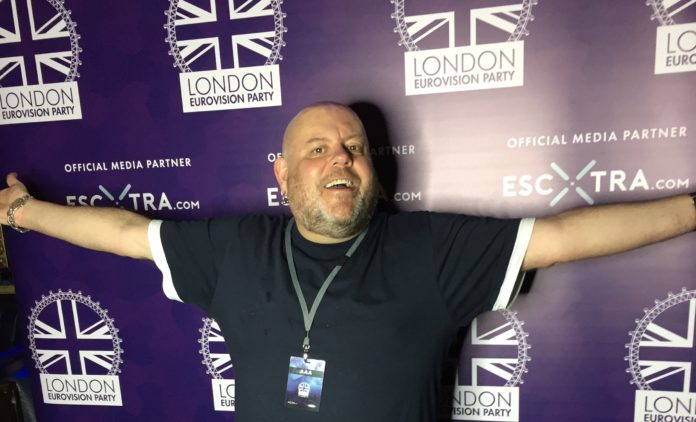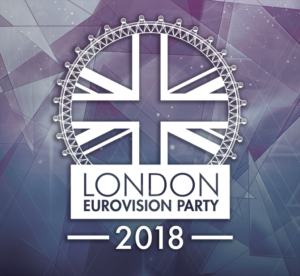 Thursday saw the 2018 London Eurovision Party, the original preview party, now in its 11th edition. Once more I was on hand to help the organisers on the day, preparing the venue, greeting the artists, and then running the backstage bars where delegations and their guests can relax before and after their artist performs.
The party was another triumph, with great feedback from punters and performers alike for the organisers Kabir and Russell, who work hard for months to bring the event together. As well as getting to sing their Eurovision song, artists also have an opportunity to showcase other work, as well as speak to both mainstream and fan-generated media, as you'll no doubt have seen in the many interviews popping up this weekend.
Of course, an intimate gig on a small stage is no real indication of how a song will be presented in Eurovision itself, with extensive opportunity to rehearse and tweak the camera presentations, but London offered the first opportunity this year for a significant number of 2018's entrants to gather and give us a look at them live. It also offers an opportunity to gauge the fan reaction, which can throw up some surprises.
This year, perhaps the most anticipated performance was from Bulgaria's Equinox ensemble. This was their first public performance of Bones live, and it didn't disappoint. The star of this song is the harmony the five vocalists generate, and to my ear this was spot on; a real boost for a song that had slipped a little in the betting odds.
France's Madame Monsieur also went down a storm, particularly by making the effort to do the English version of Mercy as well as the competing French version. Also wowing the crowd were Cesar Sampson's huge vocals as he sang Nobody But You, and Mikolas Josef who charmed his way through the non-Eurovision version of Lie To Me for the Czech Republic ("Can I swear?" he asked in soundcheck, reaching the point in the song where he had to decide on the original or the cleaned-up version. "Oh, please do!" I said; we like an eff and a blind here.)
A surprise for me was that Spain, whose song I adore, opted for an acoustic set, showcasing each of the two artists alone before a slowed down piano and guitar version of their Eurovision duet. This itself was fine, but their other choices felt rather misjudged for a party crowd, particularly Alfred's ill-advised (but perhaps aptly named) extensive freeform solo of This Ship Is Going Down. Likewise, Equinox's choice of John Lennon's Imagine felt a little hackneyed, especially compared to the contemporary sound of their actual entry.
More successful were those opting to cover other Eurovision songs, which special guest Lucie Jones (UK 2017) perfected, delivering a great cover of Shady Lady before the remix of Never Give Up On You. Lucie was one of the several additional guest performers who make London much more than just a preview event, this year benefitting from 2018 national final participants as well as former Eurovision stars. Stella Mwangi & Alexandra Rotan from Norway opened to great energy; Margaret Berger, also from Norway delivered her trademark Nordic cool electronica; Suzy from Portugal singing her fan favourite Quero Ser Tua; and Felix Sandman from Sweden with his Melodifestivalen runner-up. We also enjoyed former winner Corrinne Hermes, back in the limelight after 35 years. Where have they gone? Most of the artists on stage weren't even born when she won, yet I'd been watching for years by then!
We work hard to build a welcoming atmosphere for the artists backstage, and it's lovely to be able to witness them relax and get to know one another, often meeting for the first time. It's an opportunity for us to get to know them a little too, away from the glare of the press. It's also interesting to see them show their own pre-performance routines or anxieties. Some like to sit quietly, others are bristling with adrenalin.
One of the most charming moments was Sweden's Benjamin Ingrosso asking me, just before he got called to the stage, "Do you think they'll know my song?". "Yeah, I think they might…" I tried to explain the popularity of Melodifestivalen within the UK's fan community, but it's a reminder that being in "the bubble" is a very different experience for fans and competitors.
We also get a glimpse of who likes to party, and which artists and guests like to get their money's worth from a free bar. My lips are firmly sealed of any backstage gossip (buy me a beer in Lisbon, though, and see if I let anything slip…) but one or two delegations were still with us until almost the bitter end bringing the rock and roll spirit to our favourite European camp-fest. (Beverages of choice, trivia fans, were white wine and G&T, whilst we ran out of Prosecco exceptionally early.)
A particular shout-out to London's wonderful hosts Nicki French and Paddy O'Connell, both on fabulous form as ever, and both with an impressive array of frock changes. And special mentions to some of the most charming of guests: Ryan from Ireland, and Jessica from Australia, both of whom were delightful to meet.
The final mention has to go to our headline act, and UK entrant, SuRie, who is fast turning into one of the best ambassadors for Eurovision the UK has ever had. Her online wit, self-deprecation and hint of sarcasm on her Twitter account is very much alive and well in real life, and are hugely refreshing, making her hugely likeable off stage, which on stage helps inject an infectious energy into her performance. Starting with a cover of a song that's as much hers as it was the lead artist's she sang Rhythm Inside, which provided her first taste of the Eurovision stage backing Belgium in 2015. She'd already won over the crowd before she led a virtual sing-a-long rendition of Storm. Whatever happens on the night, as a personality she's already doing us proud.
I'll be following the promotional juggernaut as it heads to Amsterdam next weekend, but I'll get to enjoy that one from this side of the bar with no working commitments. Hope to see some of you there.
You can see all the official videos from the 2018 London Eurovision Party on their You Tube channel here.
Image Credits: Model's own.