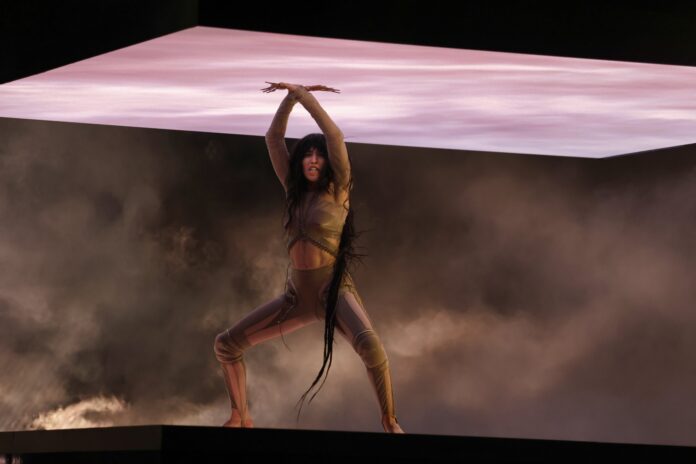 Tattoo by Loreen.
What's not been said about this song already? Since the moment Loreen's return was announced, and long before we'd even heard a note of it, this was the one to watch. It nabbed the prized last slot in Melodifestivalen's running order, teasing us week by week like some epic Schlager-edging session. Some say it's better to travel than to arrive; could this ever survive the hype bestowed upon it? Well, yes. And no.
Loreen is very impressive. Her vocal (and I've heard it live in almost a private session as she sound-checked for the London Eurovision Party) is astonishingly good. She wiped the floor at the Madrid preview party, the quality was miles ahead of anybody else. Her artistry never disappoints either: the visual impact of this in Melfest was huge.
Now it's transported to Liverpool, with changes required due to the enormity of her giant prop, it just feels a little smaller. Whilst other acts are elevating their presentations Loreen's is the only one that's shrunk. Perhaps it's because we're used to it? The wow moment came in Sweden for fans of our dedication; it's yet to come for the vast majority of viewers.
But impressive as it is, did the wow moment every truly wow? I was left a little wanting if I'm honest. I do like this, and I think it's very good, but it's equally the weakest of Loreen's four Melfest songs for me. I wasn't knocked out by it on first listen and I remain so now, and there's even less of it to wow when we get to the live shows.
I get that this is the favourite. Objectively I understand exactly why it is. But I don't think we're looking at the winner.
My marks: 10 points