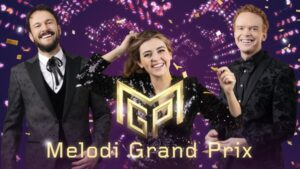 NRK has thrown a fair bit of cash at its Eurovision selection process this time around, figuring pandemic programming with a musical bent will score high. Tonight saw the SIXTH show – The Grand Final of the Melodi Grand Prix.
For weeks, fans have been talking about the banana-coloured wolf duo from outer space. Tonight, Subwoolfer won with "Give That Wolf a Banana." Their song offers useful information on how to save an elderly relative from a frenzied wolf attack.
They picked up 368,106 votes compared to runner up NorthKid with 312,223.
Viewing figures
Overall, the show didn't perform quite as well as the 2021 show. NRK reported just over 750,000 viewers, down a third on last year. Head of Delegation Stig Karlsen noted: "Our biggest competitor is our own success. We are measured against last year and some very good years for MGP. We can not break records every season."
I'd not be filling my brief, were I not to point out that wolves can't eat bananas due to their high potassium content. It causes heart disease and will ultimately kill them. Something there to keep in mind when you're dancing around your handbag come May.