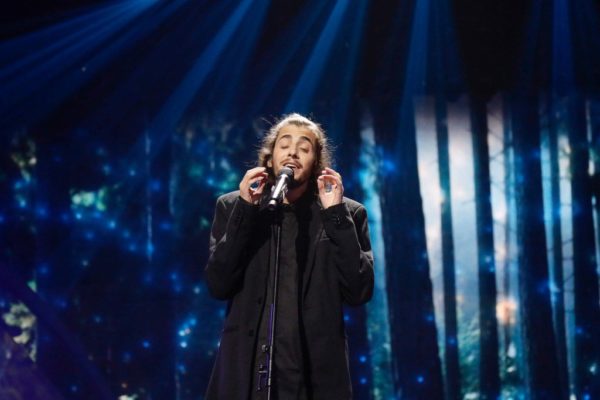 Hello Oneuropeans! I'm just watching the first dress rehearsal of the final! I won't do a live or rolling blog, as That Phil will be with you this evening for one, but I will try to give you a flavour as we go along. The main headline from last night was of course the big fan favourite Estonia doing the Kate Ryan. Plenty of people disappointed by that, including me. Once again only 7 out of 10. I'm slipping.
The opening parade was rehearsed with the artistes appearing on stage as if in a puff of glitter in the colours of their flags. It looks nice on screen, and it seems like this parade is now a feature set to stay. We had a bit of a pause until things got going but now we're off. I won't run you through all the songs, as, well, you've heard them all to death now. Pause … I've missed half of them, because I'm gossiping with Paddy from the BBC as I type.
The first songs run through without incident; the first off note comes from Portugal, where Salvador launched into a bit of freestyle jazz … doing mouth-trumpet sounds and moving his hands to his mouth to cry the words. It's unnerving when you're looking at this as one of the favourites. But of course this is just a rehearsal, and Salvador's nothing if not idiosyncratic, and he seemed to indicate at the end that he will be perfect next time.
Of the rest so far, Greece still sounds very energetic to me, the first real high-energy point of the running order, though of course several of the performers are still being measured in their delivery.
There's a break, as expected, before UK. Her contraption takes a lot of time to get into place. We have a little knockabout video segment with the presenters meeting Måns. He's putting them through their paces at the gym. And we're back with Lucie ready to go. Once more she's doing a great delivery, and gets the first real round of applause in the press centre during this rehearsal. That big. It's really is something thrilling! I know I'm in the bubble but this really does feel very positive.
The running order has been kind to several countries: the UK is one, at 18th, echoing the songwriter Emelie de Forest's winning place, and that of last year's favourite Sergey Lazarev. Another two to benefit from late placing are Romania, which is just full of silly joyfulness, and – surprisingly – Germany, which is really lifting me as it's playing now.
Qualifying from the first semi final has done wonders for Belgium, as Blanche now sounds in full voice and has stopped looking quite so petrified. More of the vulnerability of the lyrics is coming through now that she's got the main job done, and we might just see this get a result the song deserves. She's followed by Robin from Sweden who in contrast has a little too much confidence. I've been a little worried about Sweden as an upset to my Italian apple cart, and with this late a draw he might yet just prove to be.
One of the joys this year is the postcards. Each act brings in their entire delegation for a mannequin challenge style tableau, and now that I know many people in several delegations it's fun to spot them and will be a nice souvenir of this year's show on DVD.
Closing the songs segment is Bulgaria, which now sounds and looks luscious. Kris brings so much experience for his young years. If Italy is beaten I wouldn't mind it being by this, I'd love to go to Sofia. There's a huge cheer for it next to us in the press centre, but I realise it's the Bulgarian delegation and press team beside us. And finally France, one of my absolute favourites, but once again I fear they're not to be rewarded.
Verka Serduchka appears to open the voting. Ruslana for an interval act, which I missed at the loo. A second interval act comes from local band Onuka, who blend traditional instrumentation with modern pop and electronica. There's a short plug for the Junior show then a third comes from Jamala singing her new song, which I was lucky enough to get a private preview of when I met with her in March.
I suspect that's more or less that, then. It's a nice final, with a good running order. But what's going to win? Goodness, don't ask me, I'm only 70% right this week…
Monty x