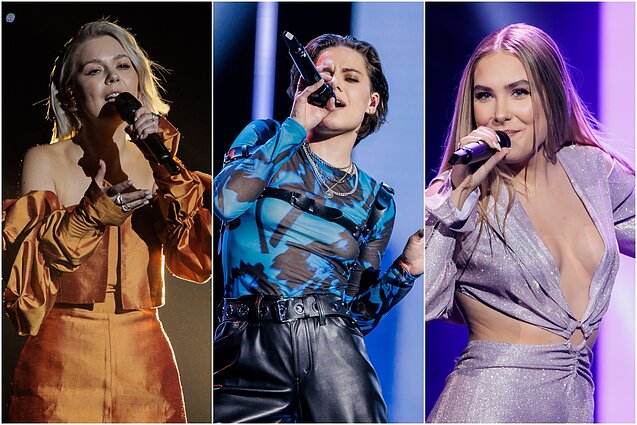 That other juggernaut of Eurovision – Pabandom iš naujo! 2023 – continued to bring thrills and spills from Vilnius at Lithuania took another step towards picking who gets to sing their heart out in Liverpool.
We've had two 'heats' and the first semi-final. This evening we got the  second semi-final with ten artists. Five have earned their spot in next week's super grand final. Just in case you wondered, the show that aired tonight was recorded earlier in the week.
Voting was 50/50 televote/jury and the jury consisted of Duncan Laurence, The Roop lead singer Vaidotas Valiukevičius, Monika Liu, Ieva Narkutė, and journalist Ramūnas Zilnys.
| Artist | Song | Jury | Televote points | Total | Psn | |
| --- | --- | --- | --- | --- | --- | --- |
| Paulina Paukštaitytė | Let Me Think About Me | 8 | 10 | 18 | 2 | Q |
| Agnė | New Start | 3 | 3 | 6 | 9 | |
| Matt Len | Midnight Train | 4 | 4 | 8 | 7 | |
| Luknė | Paradise | 2 | 1 | 3 | 10 | |
| Monika Linkytė | Stay | 10 | 7 | 17 | 3 | Q |
| Gebrasy | Saw Your Ghost | 6 | 2 | 8 | 6 | |
| MoonBee | Rumor | 5 | 12 | 17 | 4 | Q |
| Beatrich | Like a Movie | 12 | 8 | 20 | 1 | Q |
| Mario Junes | Do What You Do | 7 | 5 | 12 | 5 | Q |
| Antikvariniai Kašpirovskio dantys | Sėdi ir važiuoji | 1 | 6 | 7 | 8 | |