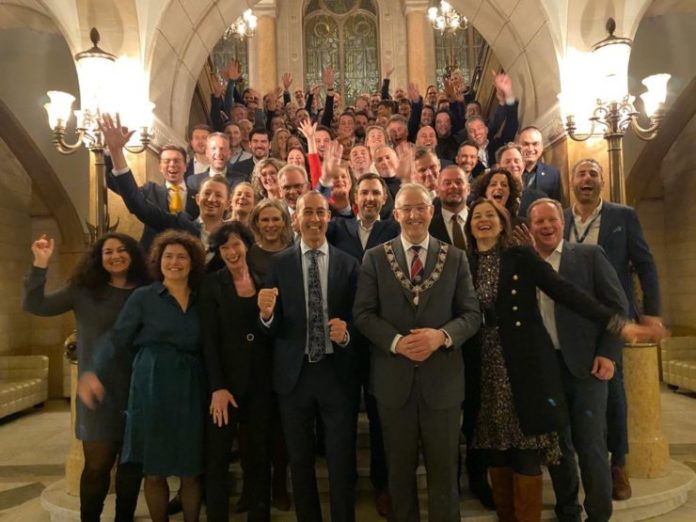 Representatives from most of the 41 broadcasters taking part in the 2020 Eurovision Song Contest descended on Rotterdam yesterday for a meeting to outline plans for May.
With measures to slow the spread of Coronavirus dominating headlines, some broadcasters (Greece, Italy, Israel and Sweden) opted to join the meeting online. The Executive Supervisor of Eurovision, Jon Ola Sand, was also absent after the EBU imposed a short term staff travel ban.
As well as Reference Group members and delegation heads, some participants have found themselves unable to fly to the Netherlands to film their postcard. Already, Israeli entrant Eden Alene has been told she's not allowed to travel. Lithuanian band The Roop also announced they're to cancel all travel plans and won't film a postcard in The Netherlands or attend any pre-show concerts. A travel ban in the Czech Republic rules out Benny filming his postcard in Rotterdam.
Several scenarios
Sietse Bakker, the executive producer of this year's event noted that the organisers are doing all they can to make sure the competition goes ahead as planned, though couldn't rule out finding ways to work with any travel bans that might come in the two months that remain.
At the weekend, the Dutch broadcaster NPO told local news outlets that they were considering several scenarios. They refused to go into detail, but insisted there's no current plan to cancel the Contest.
On Thursday, Dutch Prime Minister Mark Rutte banned meetings of more than 100 until at least 31 March. The anti-immigration PVV party had called for the borders to be closed to people from certain countries, but this hasn't happened.
Following an emergency meeting in Rotterdam, the city's tourism alderman Said Kasmi noted: 'We'll look again in mid-April and see how things stand. There's still plenty of time to decide about whether to go ahead with the Contest.'
Dutch grower
As is tradition, a draw took place to decide where in the running order we get to hear the host nation song. Jeangu Macrooy will be the 23rd act to perform in the Grand Final with his song 'Grow'.
Money, money, money
In other news, yesterday, the Royal Dutch Mint unveiled a commemorative coin to mark 65 years of Eurovision. It's been designed 'using canal water from Rotterdam and sound waves from the 67 songs that have won Eurovision
Image Credits: EBU, Sietse Bakker (Twitter).