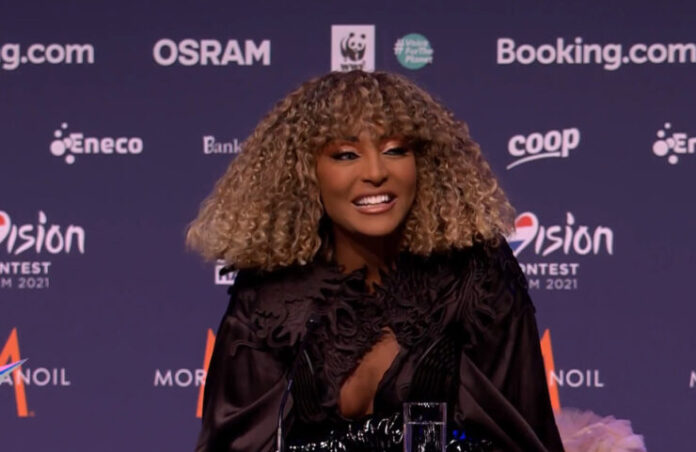 When you sit down to talk with Eritrean born Senhit and her creative director Luca Tommassini – the brains behind a year of inspired retakes on Eurovision classics, you worry that what you're going to get is a demented diva, issuing orders and taking nothing but herself seriously. The reality couldn't be further from the truth. Senhit is a bona fide professional, warm and ready to chat, thrilled to be in Rotterdam on the Eurovision stage.
"This is me, 100%," she says with a broad smile. "I'm the same person onstage as off, and privileged to be have the best job in the world, surrounded by an amazing team. I feel blessed and grateful. Why wouldn't I want to smile?"
Rapper's delight
She looks set to bring San Marino its best result with the banging, but barmy 'Adrenalina'. The question everyone chooses to ask is who'll be on stage with her? Will it be the US rapper Flo Rida – who performs on the video and single release, or her good friend Denis who has stood in for him during rehearsals so far?
"I keep being asked that," she sighs, "and my answer is always the same. We'll discover together. Stay patient and you might have a beautiful surprise … or you might not. To be honest, none of us wanted to come right out and ask him if he would consider coming to Rotterdam with us, what with all the travel restrictions, especially for someone coming from the US and we didn't want to put him in an awkward position. He was the one who did an interview for the BBC saying how he would be super proud to come to the Contest. "
How did they come to work together?
"I met Flo by Zoom and Skype because of the pandemic and he was really excited by the idea of the song. We worked together and had a lot of discussions about the words and ideas."
Freaky
Senhit first represented San Marino in the Eurovision Song Contest 2011 with a ballad called "Stand By". It didn't make the grand final and is a million miles from where she is today, musically. She's spent two years getting ready for the Eurovision stage and the last twelve months Luca has masterminded her #FreakyTripToRotterdam. Each month, she drops a new video cover of an old Eurovision song – giving each a a completely different sound.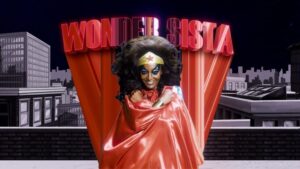 "Three years ago we met and decided to launch into this adventure together," says Tommassini. "She's a true professional with no airs and graces. The one time, I had her sitting in a water tank for three hours and she never once complained."
Senhit roars with glee. "And then for 'Alcohol is free', you made me sit in the makeup chair for six hours. I couldn't even go to the bathroom."
He nods. "No other star would do something like that for me. Usually when you work with people, they say they'll keep in touch but the next day they wipe your number from their phone. Not Senhit, we've become great friends."
Senhit agrees. "I had so much fun with every single one of the songs, thanks to Luca. He pushed me out of my comfort zone and it was a challenge each time. Actually, I'd love the series to go on forever, but it has to end and June will be the final stop on my Freaky tour when Eurovision 2021 is over."
One life
With the second rehearsal now over, just three more runs lie between her and the vote that might see her take San Marino to the Grand final of Eurovision 2021. How is she preparing?
"I try to rest," she says, laughing when Luca suggests she might consider meditation. "I'm on an amazing adventure with this guy and I don't let myself get nervous or stressed. People think I'm always on and never get tired, that's because I stay upbeat. The second I find myself fading, I hold up my hands and say: 'Guys, I need to go to bed. You carry on the party'."
Her philosophy for life is uncomplicated.
"I stay happy and that's why I bring adrenaline to the stage. Everyone needs to go through that every day, because come on, we only have one fucking life. Get up people, enjoy yourselves. Stay freaky. Stay positive."