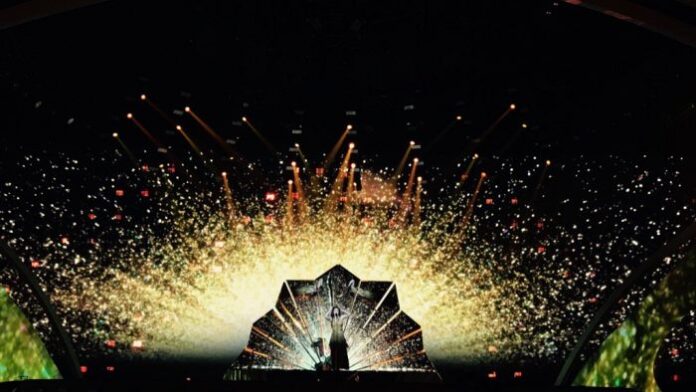 I know, I know what you are thinking – I'm always going to say this because I'm biased towards the UK – except I'm clearly not if my oeuvre of work and previous offences can be taken into consideration m'lud.
The performance is stunningly simple and no fuck-ups in sight. The main prop is sorta like something from a hall of mirrors without the making Lucie look fat one. She starts off looking up into these and then delivers the song front and centre. The stage background is lit in gold … with gold explosions, which look very good on screen. The mirrors then open up into a fan arrangement.
Lucie delivers the song down the camera occasionally, but she does tend to look off – which is a problem for me but I know that some people like it. Vocally though, as you would expect, she is spot on and knows how to emote this song as well (she's no shrinking violet when it comes to performing).
And yes, she does a very decent job of this song and it is strong enough to do reasonably well.
It's not a winner, but neither is it an embarrassment.
This time with pyro Hendrick said … this may alter …
https://youtube.com/watch?v=HwNlCFG2Pz0