Vasil Garvanliev has lived through quite the year. After the global pandemic meant he couldn't travel to perform for North Macedonia in Rotterdam at the 2020 Eurovision Song Contest, he locked himself away and worked on a new song. 'Here I stand' is the result. A sentiment he took literally when coming out as a gay man during an interview with Attitude Magazine. We hooked up with him in between rehearsals for the 2021 Contest.
Vasil walks into his press conference all smiles as a remix of his Eurovision entry (courtesy of Tony Moran) blasts. He subsequently tells us the remix will be on Spotify soon.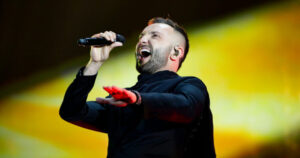 The first questions were about how things went today. "Much better," he said with an upbeat smile. "The first rehearsal was all about getting to know the big and beautiful space and it takes time to adjust. Today, we upped the ante. I worked hard on my ability to gauge the journey of the song vocally and work with the lighting."
After singing the song so many times, how does he stay in the moment and able to deliver such emotion?
He grins. "By getting over myself. This is not about me. I get to stand on that stage for everyone else, and remind myself of all the messages of love and support give me the purpose to stand up there for everyone."
Like everyone, Vasil has faced struggles in the past year. "We all have that inside voice that says you're not good enough, but you have to ignore it. I always say it's a thin line between confidence and arrogance."
On the right path
When interviewed by Attitude, Vasil noted writing 'Here I stand' led him to want to share his sexuality. We wondered if life changed since the article came out. Vasil thought for a moment. "It hasn't changed how I feel about anything. The interview just helped confirm I'm on the right path in life. I hope my being able to use my voice inspires others to think that no matter what people say or do, nothing should bring you down."
Naturally, talk turned to the Contest and his competition. "I've only seen the same as everyone else. The twenty or thirty-second clips and I'm proud of everyone. I wake up each day to 'Maps', 'Set me free' and 'Loco loco', but that's only because we're sharing a hotel and meeting over breakfast."
The Covid bubble has meant this is a different Eurovision experience to the one he had when working as a backing singer for Tamara Todevska in 2019. "It's challenging," he agrees. "But we have such amazing energy in the team, and I'm so glad to have them here with me and for me. Everything feels to slowly starting up and so we're getting to meet the Eurovision family more and more."
A vocal hug
Vasil – like most other participants – has to work with a pre-recorded vocal backing track. 'Here I stand' features the Chicago children's choir – the city where he grew up. How does it feel to be out there alone after being part of a team in 2019? "It feels strange, because there is a special energy of having that gang behind you. But having the children's choir is like a vocal hug for me. I'm  in the right place and sharing the love together."
It's not, however, something he hopes to see every year. "For this year it's brilliant, but I'm one of those who believes in bringing the voices live."
We finished off our chat by asking him how he might like to be remembered in Eurovision history. He pondered a moment, then we got that smile once more. "As someone who silenced hate with love and music."
---
Vasil performs in the first semifinal of the 2021 Eurovision Song Contest on Tuesday, 18 May. You can watch online live or through most European broadcasters.