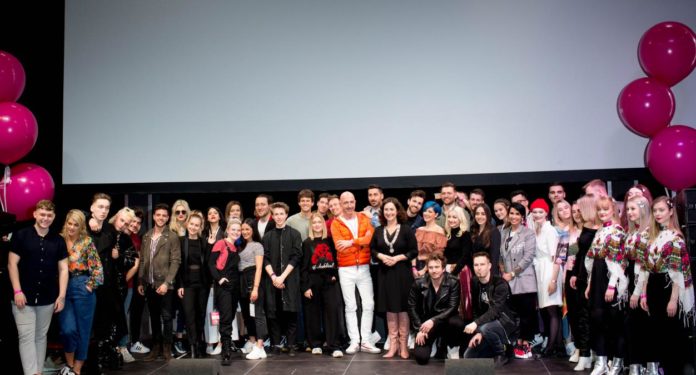 It's party season, and in the spirit of 'telling it like it is' – or at least telling it how fandom sees things, let's have a look at the fallout from Eurovision in Concert.
The Amsterdam promo show goes from strength to strength, drawing capacity crowds and often giving fans a taste for the new Eurovision vintage. In some cases, it's the first chance we get to see a song performed live. More so this year where many front-runners arrived fully-formed from internal selections, giving us a polished video and studio recording.
So what did the world make of the 28 acts who made it to Amsterdam?
No pain, no gain
Much has been said by fans about Katerine Duska who disappointed with her performance of 'Better Love'. It was as if she couldn't hear the backing track. She has since revealed she wass fighting a cold, and she's still looking forward to her next promo appearance.
Thank you so much @ESCinConcert Amsterdam !Singing to 5k people and meeting 27 other delegations,press and fans from all around Europe was such an amazing experience.I'm still fighting a cold but..no pain, no gain:)Thank you all for your #betterlove C u all in Madrid pic.twitter.com/Dz47zmFkGQ

— Katerine Duska (@KaterineDuska) April 7, 2019
Another act who didn't quite inspire was Srbuk who performed 'Walking out'. Breathless vocals and untidy staging failed to do the song justice.
Warming up before going on stage ♥️ #walkingout #srbuk @ESCinConcert pic.twitter.com/Pgaef9GBbr

— Srbuk (@SrbukOfficial) April 6, 2019
Fans generally seemed underwhelmed by Lukka Hanni (Switzerland) and Tulia (Poland), but keep in mind there's lots of time to improve … and we're not anywhere near seeing the final staging.
Haters
At the other end of the scale, two-strong Hatari enjoyed a warm reception both in the hall and from the online public. Though there might be room for Klemens to work on lead vocals.
RIP me #Hatari pic.twitter.com/Fy7xPqSjhH

— | (@amuxljubi) April 6, 2019
And (perhaps inevitably) the home team did great. Last year at the Dutch show, Waylon met with mixed reviews from Dutch supporters. Duncan seemed to win everyone over.
48 interviews in a row. Wow. pic.twitter.com/V4VkyKeGco

— dunclaurence (@dunclaurence) April 6, 2019
Keiino (Norway) and Kate Miller-Heidke (Australia) turned in performances set to boost their showing with the bookies. And everyone cheered for Serhat (San Marino).
Sorry if I missed a mention for your favourite act, I'll try to do better next time.
It's onwards to Riga, Moscow, London and Madrid as the countdown to Eurovision continues.
Image Credits: Stijn Smulders.