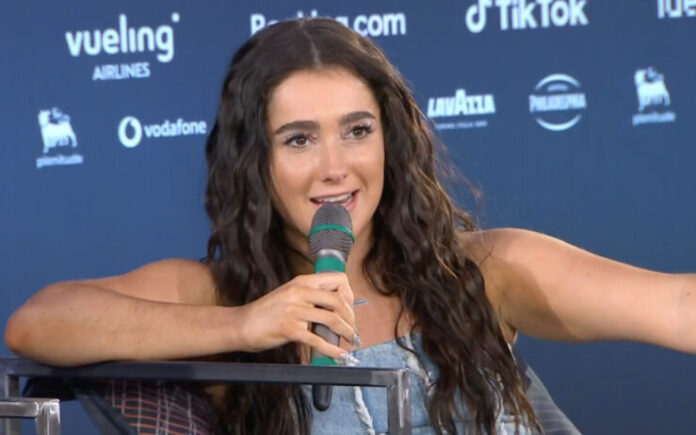 Brooke bursts into the press conference room straight from her first rehearsal, wearing shoes she admits she can hardly walk in. This isn't her first time in Italy; she's been to Rome before and played the tourist. She's yet to see much of Turin, but has already enjoyed pasta.
First up, she talked about the staging. After performing a scaled-down version on the Late Late Show Eurovision Final, she went into weeks of rehearsals. Last week they returned to the show with a different version and now she's decided on a blue superhero-style costume. There's still plenty to tighten after today, but she's really happy with how things are shaping up; seeing the pyro and fireworks is 'a dream come true'.
Red bull
As for the meaning of 'that's rich' – Brooke explained it came from something her grandmother used to say, meaning someone is being a hypocrite. When Brooke came to write her first song, she didn't want to make the subject matter too personal or revealing, and the phrase kept running around her head, so she decided to base the song on that.
When asked about if she's caught other rehearsals, she mentioned Achille from San Marino – laughing about how if she'd gone to RTE and demanded a big rodeo red bull, she most likely wouldn't have got one.
Thinking back to when she got picked for the Irish Eurovision show, she talked about telling her boss at the estate agency (where she worked while music work was thin on the ground due to Covid). He couldn't be happier and everyone back there have been so supportive. As a parting gift, she left her laptop in the office – she's now agreed they can keep it – you read it here first, Mr Estate Agent.
Panic attacks
The pre-party circuit was a huge help for Brooke. She knows now if she'd gone from the Late Late Show to the arena, she'd be in trouble. The parties gave her a chance to scale up her performance and try new things. If she didn't do them, by now she'd be in a corner some place having a panic attack!
The preview circuit also exposed her latent super power – the ability to lose most everything. In Barcelona she mislaid her passport, in Tel Aviv Brooke lost her voice and in London, the missing object was a packet of rice cakes! So far, she's lost nothing important in Turin. It's early days. There's time.
As for the song, she just hopes that people see it as something that's fun to watch. Three minutes where you get to detach from life, focus on the stage and smile along with what she hopes is a funny lyric. The whole performance is fun and she hopes that comes across to people in the hall and watching on TV.
Rounding off, she can't wait to get into Thursday's show (and hopefully Saturday too) and make everyone back home proud. Watch Parties are planned in her home town.
"I'm too much," she says. "But in a good way. I'm good enough for myself."