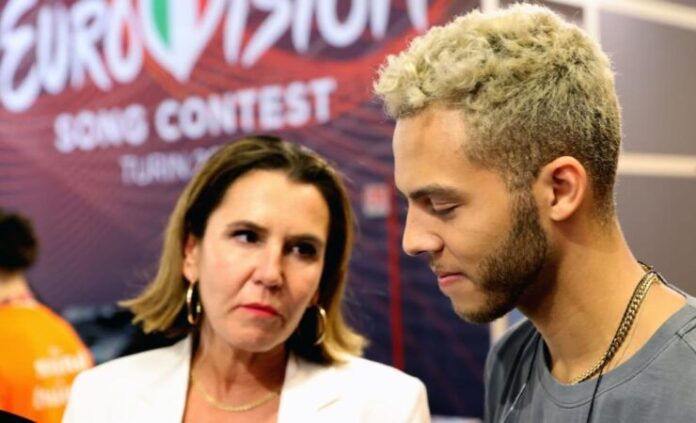 German TV has hinted at plans to revamp how it will pick a song for the next Eurovision Song Contest. After Mallik Harris came last with 'Rockstars' in Turin, broadcaster Norddeutscher Rundfunk (NDR) came under fire.
This year, NDR oversaw the selection a jury who in turned picked acts and songs for a national final. At the time, there were complaints of a lack of transparency around the process. Nearly 100,000 people signed a petition calling on the German broadcaster to add Eskimo Callboy to the line up of its Eurovision 2022 selection Germany 12 Points.
Eurovision writes its own rules
On Saturday, Germany picked up just six points, scoring nothing with juries. Harris admitted to being taken aback by the result. German tabloid BILD reports him as saying: "Of course I'm disappointed to score so few points. I'm still not sure why we did so badly. What I do know is that Eurovision writes its own rules – and often those rules have little to do with music."
He went on to congratulate Kalush Orchestra. "I played a song that means a lot to me, and it means a lot to others too. That's why the placement isn't that important for me. In the end, I was very happy that Ukraine won. That showed that the Eurovision Song Contest can connect Europe and celebrate music."

BILD went on to suggest NDR should lose the rights to pick the German entry. An opinion piece goes to lengths to stress the result is no reflection on Malik Harris – describing him as likeable and highly talented. BILD suggests broadcasters like ProSieben and RTL are 'much closer to the zeitgeist of society'. Neither broadcaster is a current EBU member.
2023 will be different
Speaking after the Contest, German head of delegation Alexandra Wolfslast said NDR was taking "the poor result very seriously" and went on to add: "The selection process for the 2023 Contest will look different to the one used this year." She also confirmed NDR will retain control of the song selection.
Despite the result, "Rockstars" was up 19 positions to a new peak of #8 in Germany's Spotify chart on the day after the Eurovision final, the highest for a German entry since 2018.