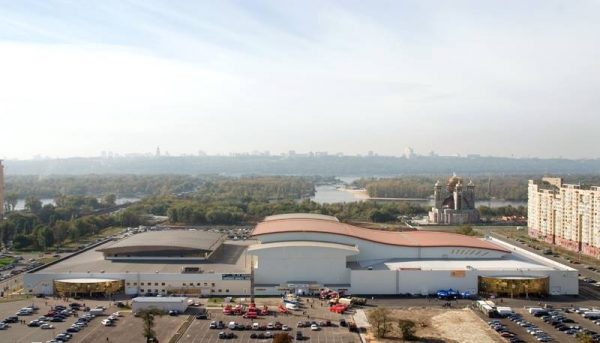 The agony is over. How have we managed this long? At last we know where the 2017 Eurovision Song Contest will take place. And guess what …  it isn't Odessa or Dnipro or any of the other cities that the organisers pretended stood a chance. The 62nd Eurovision will take place in Kyiv. The city with the big airport(s), big hotels, suitable local infrastructure and previous form.
Congratulations #Kyiv for being chosen host city of @Eurovision 2017. Special thanks to the other finalists #Odesa, #Dnipro for their bids

— Jon Ola Sand (@jonolasand) September 9, 2016
So what can we expect next? How long until Ruslana gets involved? The woman who seems to think thigh-high boots and a camp cackle are a viable substitute for presentation skills. And let's not forget Verka. Does anyone outside the EBU really find this 'joke' funny? Maybe Jamala will do a turn, why let being barely able to speak English get in the way?
After all, what's Eurovision without a couple or three presenters doing their level best to follow a pun-laden script with no sense they understand a single word?
The venue is the excitingly named International Exhibition Centre – not the same crumbling edifice that hosted in 2005. Refurbishment is promised, so there may be less in the way of asbestos than last time.
Kyiv Mayor Vitali Klitschko – last seen topless and smothered in oil sounding the 'vote now' gong in 2005 – promised a few months back that (if chosen) the host city would 'try our best to properly prepare and host the contest' – hardly the most reassuring of statements.
And what about the songs? The EBU bent their own rules and allowed a political song this year, so desperate were organisers to squeeze Ukraine back into the line-up. That floodgate is now officially open. Will Mamma Russia resist? Will they even take part?
Maria Zakharova, spokeswoman for the Russian Foreign Ministry, wrote in a bitter Facebook post back in May that the next Eurovision winner might as well be about the conflict in Syria.
She proposed, in English, the lyrics: "Assad blood, Assad worst. Give me prize, that we can host."
She probably hasn't got a glittering career ahead as a stand-up comedian.
Alexey Pushkov, the head of the State Dumas Foreign Affairs Committee, wrote on Twitter that the result showed Eurovision had "turned into a place for political battles".
He suggested Russia should sing next about the "martyrs of Odessa", a reference to the pro-Russian separatists who died in clashes with Ukrainian government supporters in May 2014.
It will be an interesting few months, as the EBU does its absolute best to sanitise statements and reassure the watching world that everything is fine.
Will it stop OnEurope from boarding planes and heading for whatever tent or portakabin is on offer for the press and attending every party, rehearsal and publicity shot going? What do you think?
Read this: Kyiv or Kiev?