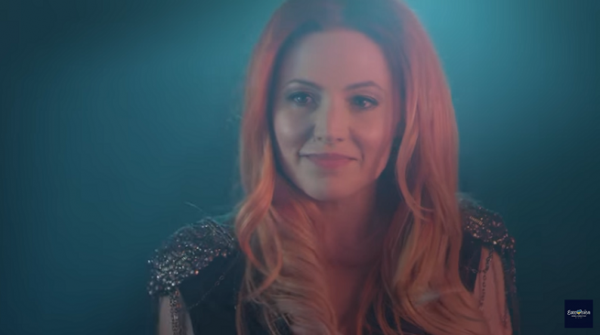 What question has occupied Eurovision minds more than any other of late? The winner of Melodifestivalen, how can Lithuanian TV take eight weeks to come up with that song, Russian boycotts … or … who will San Marino get to pay their own way to Kiev?
Just last week, their delegation head promised two artists –    one from the EU and another from elsewhere. He made it all sound very mysterious. A bit like he was making it all up as he went along. It certainly couldn't be Valentina Monetta, could it? After three goes, she made it clear she wanted nothing more to do with the contest.
Worry no more, word is out.
Fourth time lucky?
And the word (or words) are change of heart. Valentina is giving it another go. This time singing with American Jimmie Wilson. The song is from one-time Eurovision God Ralph Siegel. It's like these people don't understand the phrase 'leave with some dignity intact'.
'Spirit of the night' is touted as an "addictive euro dance" number. Judge for yourself …
Pay to play
A few weeks back, two Italian singers — Tony Maiello and Arisa — revealed that San Marinese TV had asked them to sing for the tiny republic .. and then revealed the offer came with strings. In exchange for the TV exposure the performers would need to cover their own expenses. RTV was after a sum of between €300,000 and €500,000. Red faces all round and swift denials from general manager Carlo Romeo.
Clearly Siegel's team wasted no money on the promo video, so it's all in the bank for Kiev
The dynamic duo get to perform in the second semi-final on 11 May – the one everyone seems to think of as the weaker one, so you never know …
I'd probably be making sure my hotel reservation post Thursday is refundable.