Michael thinks he is part of the Pussycat Dolls – I think that tells you all you need to know in one sentence.
His rehearsal has lots of mirrors and lights and, apparently, he is going to "slay" – a widely known phrase used by certain websites. He talked about how when he won X Factor Israel, his mentor was Israeli Eurovision winner Netta. Her key advice for Turin was to just be himself – and that means feeling like a winner!
Supermarket duties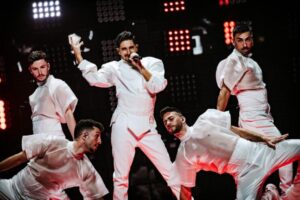 Nicole Scherzinger is his biggest inspiration – surprisingly – because she can sing opera and all sorts of other genres. Just six months ago Michael was working as a cashier at his local supermarket (some people say he should have stayed there), and he says that his ex co-workers are his inspiration because it shows that everyone can be whatever they want to be.
Michael says he loves all of the Israeli fans and they are waiting for him back home. What he values most about his fellow countrymen is they say what they think. His favourite song from the past, (and probably the only one he saw), was 'Toy' by Netta – Michael cites her again as an inspiration. He spoke about going to a performing arts school before working at his local Co-Op  and how that gave him the chance to perform in musicals (again, no big shock, there).
Michael knows that music isn't an easy business to break into, but he hopes Eurovision is going to be a big step towards building a career.