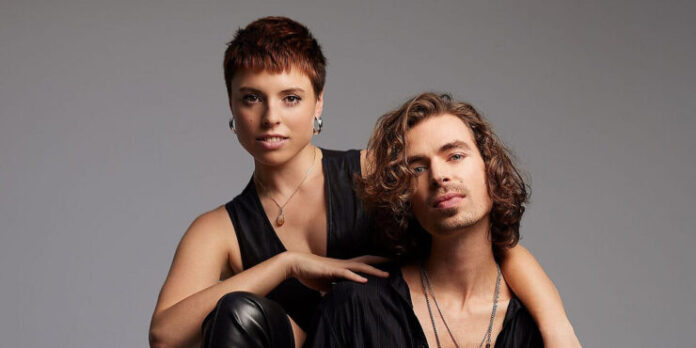 So it seems that 2019 winner Duncan Lawrence is not quite done with the contest after all for it is he, along with Jordan Garfield and the singers Mia Nicolai and Dion Cooper who have composed the Dutch entry for Eurovision 2023.
AVROTROS, the Dutch Broadcaster, unanimously decided that Mia and Dion's song was going to get the ticket.  The DG of Avrotros is quoted as saying :
"We received a lot of songs this year, especially from young talent, which is a great development. Dion Cooper and Mia Nicolai are themselves unconventional young talents, as well as songwriters with a story to tell. The selection committee were, without exception, very positive about their song, in which their voices work together beautifully. Though we can't say too much now about the song, we can say it's a song that's distinctive, outspoken and meaningful, and we have no doubt will stand out in a positive sense from the field of Eurovision contestants.'"
Is it wrong that "Unconventional young talents" could be code for troublesome performers in my head?   There are a lot of carefully chosen words in that sentence, "outspoken" "Distinctive" being just two of them.
The Artists themselves had never met until 2 years ago when Duncan got the two together and started to kick about ideas.  Their voices, apparently, mesh well together (we've heard *that* before) which is lucky considering they are probably singing a duet and all!
The Artists themselves said :
"The Eurovision Song Contest is the place where people can see what you have to offer as an artist. After all these years of hard work, translating our feelings into music, this is a great opportunity to tell our story on such a large scale. It feels fantastic and a little unreal that the AVROTROS selection committee has chosen our song, but we're ready to share something really positive with Europe."
So a very non-descript statement there then.  Mia is 26 and Dion is 28 – His style is a cross between Bryan Adams and Harry Styles ( two completely opposite ends of the spectrum there then) and Mia seems to be from the Dutch version of Stage School by doing a little bit of everything – singing, dancing, drama and Ballet – whether she tends to Children and Old people in her spare time is, sadly, not known.
The song is going to stay a closely guarded secret… until it gets leaked onto the internet, but we'll keep our ears to the ground to see if we can get it before the official release date of "2023".