With Eurovision season on the horizon, why not indulge in speculation and unconfirmed rumour with the OnEurope Towers gang? We may be locked down in Tier 3, but that will not stop us telling you about the names linked to the Swedish national final – Eurovision 'juggernaut' – The Melodifestivalen.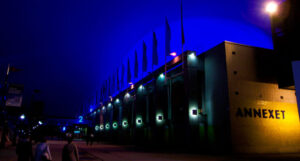 This year, the show isn't taking to the road. Each of the five heats and the grand final will take place in Stockholm – without a live audience. Just this morning, Swedish tabloid Aftonbladet reported SVT has booked Annexet – part of the Globe Arena complex.
So, who's linked to the contest? P4 Nästa wildcard entry, Julia Alfrida is certain of a spot. The Mamas might not have made the big show this year, but they're back for another go. We're also due to see the return of Charlotte Perrelli, Danny Saucedo, Jessica Andersson, Eric Saade and Dotter, along with veteran entertainers and Eva Rydberg & Ewa Roos.
More names
Aftonbladet reckons they know at least 26 of the 28 acts, adding to the list names other old faces (and new) such as Tusse Chiza, Nathalie Brydolf, Sami Rekik & Wahl, Sannex, Klara Hammarström, Alvaro Estrella, Lillasyster, Paul Rey, Arvingarna, Lovad, Efraim Leo, Anton Ewald, Kadiatou, Patrik Jean, Holm Keita, Elisa Lindström, Tess Merkel, Emil Assergård and Frida Green.
More information is expected from SVT on Tuesday, 1 December.
Earlier this year, Swedish newspaper DN reported Melodifestivalen 2021 will be the last in its current format, with new ideas promised for 2022.