Being a big star back home certainly helps when it comes to Eurovision Song Contest press conferences. Vladana feels completely at home and no sooner does she sit down, than she's ready to talk about the rehearsal.
In particular, she says the delegation have made several last-minute changes – and let's not forget the 'mystery reveal' she's promising in her TikTok clip that we'll only see on the night (or let's be honest in all of the dress rehearsals, because that's just how it works around these parts).
The song has a story: when Vladana went to her producer with a demo of 'Breathe', she wanted her vocals to sound both powerful and retain an ethnic element. She came to this fresh from recording songs in the 'Game of Thrones' language, by the way (such fun).
The song is very personal. She wrote the song after her mother died from Covid and dedicates the song to her and all those who have lost someone to the pandemic. She doesn't want them to be forgotten, over six million people died. It's a kind of war and Eurovision is a great place to share this message.
Metaphors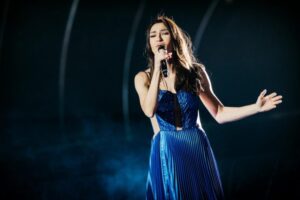 'Breathe' is about how a family falls apart without air – a metaphor, clearly, but one that also applies in real life. She's recorded versions of the song in English, Italian and Finnish. Unfortunately, she ran out of time to record a Montenegrin version. It's a personal song, and she wanted to get the words right when singing in her own language. For Eurovision, though, she felt it important to tell her story in English – although she does speak a few words of Italian (beyond the lyric of her song) … tourist Italian, she adds. Recording in Italian let her create something with an orchestral arrangement, aiming for a Sanremo sound.
There was a question about whether the story of the song was worked out in advance with storyboards. It's a question more for her director, she says. They wanted to share the lyrics of the song, but she said we've not yet seen it all. There's a surprise to come … a 'warm story'.
She lists her inspirations as Bjork and Grace Jones (at least she hasn't slapped the chat moderator yet….). She gets so much inspiration from contemporary art too. Turning to this contest, she admires Sheldon and she loves Achille Lauro – she'd wear everything he wears (and so would I but he'd have to be included).
Karaoke
Vladana started singing on a karaoke show in Macedonia and laughs about how now she is on the biggest karaoke show of them all. She says she was very nervous back then, but it gave her loads of experience, especially to forget about the camera and that people who know music will see star talent. She tells herself to relax and it will all be ok.
Montenegro is back after three years away, and she does indeed feel some pressure from her nation to so well. But she too has been out of music for three years after her son was born, and Eurovision is also her comeback and she's honoured to be here doing that while representing Montenegro.