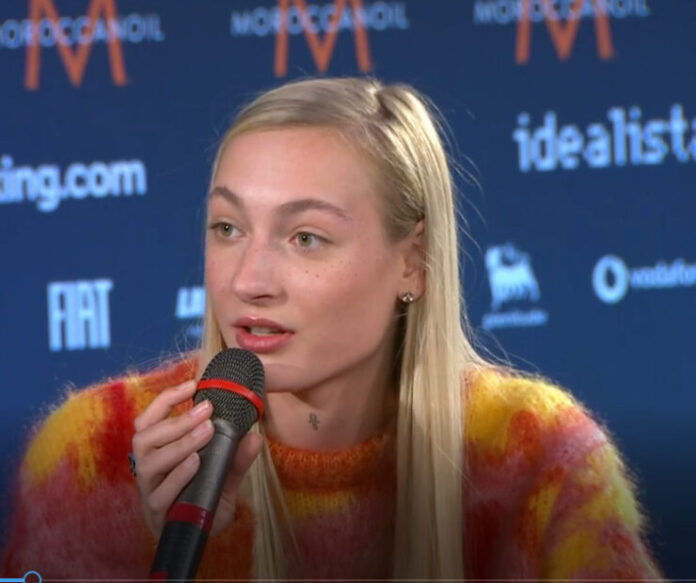 Yes yes, I know, it's clearly a conspiracy against The Netherlands after OnEurope's frank review but RAI really did change the times on us!
It was S10's first time in Turin, and she has already been shopping! – a woman after my own heart. Our moderator loved the song despite knowing little to no Dutch (again, someone that has not read this website). S10 says that she can express herself in her native language, which is cool, and she never thought about writing in English.
Mental health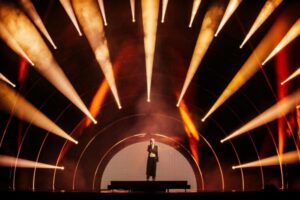 There is a message in the song about mental health, and S10 talks a little bit about her own experiences and how it's important to listen to an artist that has something to say and it's a big part of her history and now she is "ok". She and anyone that has issues can be comforted together by the song.
S10 has a tattoo on her arms representing her school, herself and her friends – looks like some scrawl to me but I'm tired – don't hate me any more than you already do.  Her influences are Kanye West and Johnny Cash – an eclectic mix there – and some other wider influences that she mentioned. She likes all of the songs and she loves the Italian and the Moldovan entries – plus the Albanian song because it is difficult to sing.
First guitar
She got her first guitar when she was 16 – her brother got his driving license and S10 got music lessons and a guitar. She says that she is not a good player really … but we'll see.
On stage, she says she is going to wear a black suit, as it really suits her and the coloured top she wore today in the press conference is nothing like the things she would normally wear – because she's got a dark soul, naturally! – though on the flip side of that, she always likes to have fun and her team includes one of her friends.
Finally, she wants the audience to feel their own story and does not want the listener to have any particular experience or being made to feel something, they can be together in their own moment.